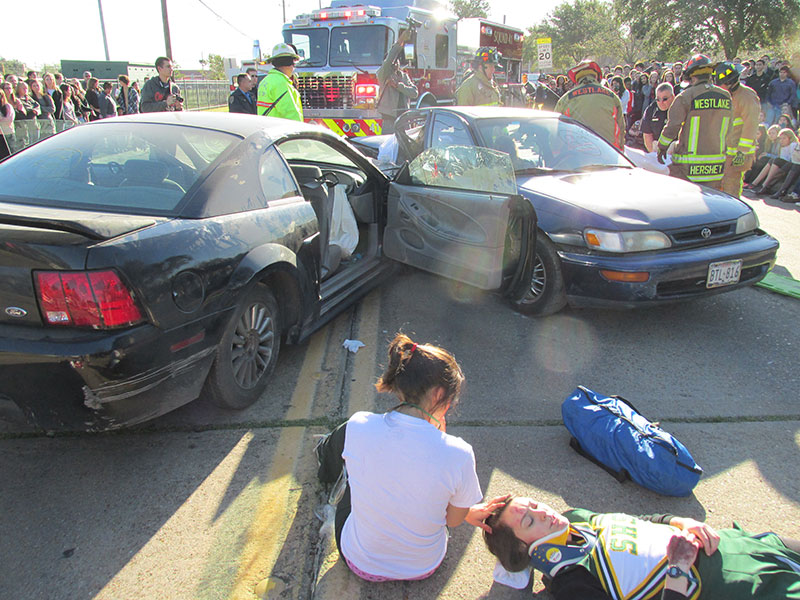 It's a frighteningly realistic scene.
Several police units, a fire truck and an ambulance are there, lights flashing. First responders are running around two cars that have apparently crashed into each other.
In them, with bloody wounds and some of them unconscious, are teenagers — all students of Spring Branch ISD's Stratford High School.
Several firefighters are working to break the car doors open and get the kids out.
Some of them are then put on stretchers and transported to the emergency room — one even by LifeFlight helicopter — and some are driven off in hearses.
One of the drivers is arrested for DWI.
It all seems so real, you have to remind yourself it's all staged. "Shattered Dreams" is an initiative by Harris Health System, which operates Ben Taub among other hospitals.
All juniors and seniors of Stratford High stand on the side, and many of them seem genuinely affected by what they see.
"It looks really realistic. I mean, the cars obviously are really banged up. I mean, they got everybody here. The helicopter flew down and everything. The cops, the lights, they blocked the road off," says Cameron Long, a senior at the school.
"If this happened to one of my friends, honestly, it would be so devastating. I really just would never pray for this on my worst opponent — anyone. I mean, this is just really sad — if it actually happened."
For some students, particularly those who participate in the act, the event has a lasting positive effect.
Senior Houston Police Officer Paul Lassalle has volunteered for Shattered Dreams for a number of years now.
"I've had a young man two years ago run me down in a mall one night," Lassalle says, "and (he) said, 'Hey, I was at the Klein Oak Shattered Dreams and I was one of the actors and I spent the night at the hospital. I want you to know I'm at (Texas) A&M and all my frat buddies hate me because as soon as they pull out the alcohol I start taking all the car keys. I will not allow anyone to drink and drive around me. Even if it's one, it's worth it, right?"
This semester, Harris Health organizes Shattered Dreams at four different high schools in the greater Houston area.
They do it every other year at Stratford High, says the school's principal, Christopher Juntti.
"Unfortunately, we're like every other high school in America and our kids, while we have great kids, they make bad choices sometimes. We know we do have kids, underage drinkers, and we deal with that from a discipline point. But it's more important for me to deal with it from a proactive point and show them, look, there are these parties on the weekend. These are some of the terrible things that can happen as an outcome from that."
The timing for the event seems even more appropriate considering a suspected drunk driver drove into a crowd in Austin early Thursday morning, killing two and injuring many others.