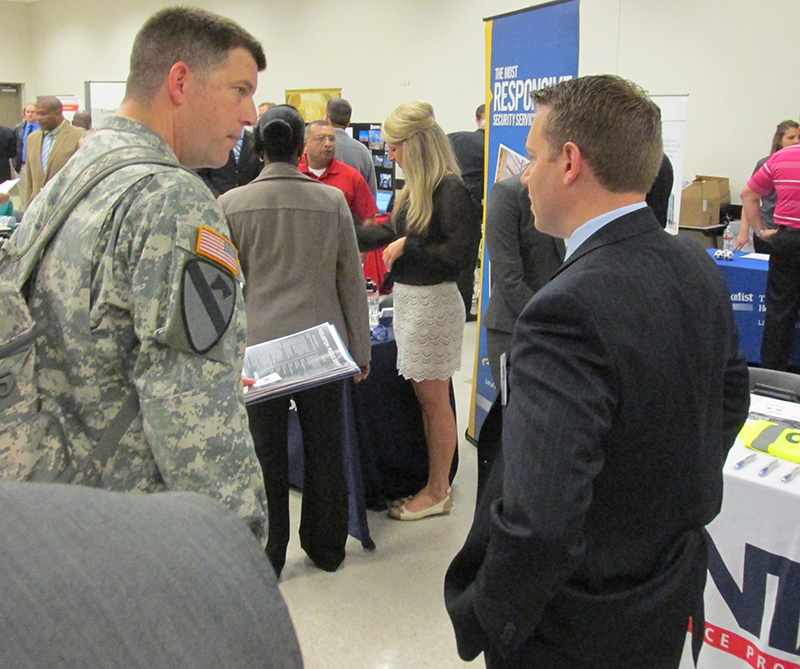 A military veteran talks to potential employer.
Hundreds of military service men and women traded resumes for a chance at getting hired by one of dozens of companies at a job fair sponsored by the U.S. Chamber of Commerce.
A giant meeting room at Ellington Field's Joint Reserve Base was bustling with activity. Representatives from more than 50 companies from here and abroad were talking to veterans and military spouses about possible employment. Tiffany Redfield and her husband say they'd like to relocate to the area from Alaska:
"I'm so excited. I'm really glad we came here because there's a lot of positions in my field and also, just things I didn't know that were here before we came."
Hernandez: "So, the job prospects look real good?"
Redfield: "Yes sir, definitely. I'm real excited."
Corporal Edward Shaw with the Department of Public Safety, one of the potential employers on hand, says veterans are ready to contribute:
"They understand the discipline. They understand the instructions that are given. They understand the mission given to them by their superiors, and they tend to be very dependable."
Kerry Dawkins, with the U.S. Chamber of Commerce, sponsors of the job fair called "Hiring Our Heroes", says companies can't miss when it comes to hiring a veteran.
"Everyone knows that hiring a veteran is the best way to go, because they know dedication, they understand putting the organization before self. They understand all of those things that make them excellent employees."
Army Sgt Major Tim McGregor says after 25 years in the military, he's ready for the transition into civilian life:
"I'm always the first one there, I don't like to miss work, and plus we're easily trained. We've been trained at many different things, so I think for most companies that's a good fit!"
The U.S. Chamber hopes to help a half-million military veterans and spouses find a job by the end of this year.