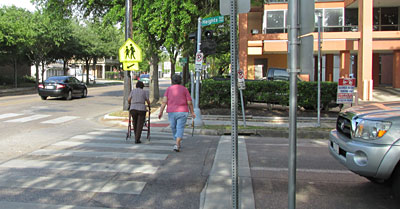 A new report says pedestrian fatalities are decreasing around much of the country after a three-year spike. But here in Texas the numbers remain high.
Transportation researcher Dr. Allan Williams compiled the report for the Governors Highway Safety Association. Williams says after several years of declines, the number of fatal pedestrian accidents rose sharply around the country between 2010 and 2012.
"You can speculate, and I think the things that were happening were, first of all, the economic recession of 2008 and 2009, which may have gotten some people out of cars and walking just as a cost issue."
Citing figures from the first quarter of 2013, Williams says it looks like the number of people killed is starting to fall, but not in Texas.
The report shows a 22% increase in pedestrian fatalities in the first three months of last year compared to the same period in 2012.
Williams says the high numbers could be a result of the state's large size, and that it has a lot of big cities.
"And pedestrian fatalities, it's an urban phenomenon primarily."
Here in Houston, police say there's also been a jump in the number of fatal pedestrian accidents.
This year's numbers include three people who were struck and killed in separate accidents on Bellaire Boulevard.