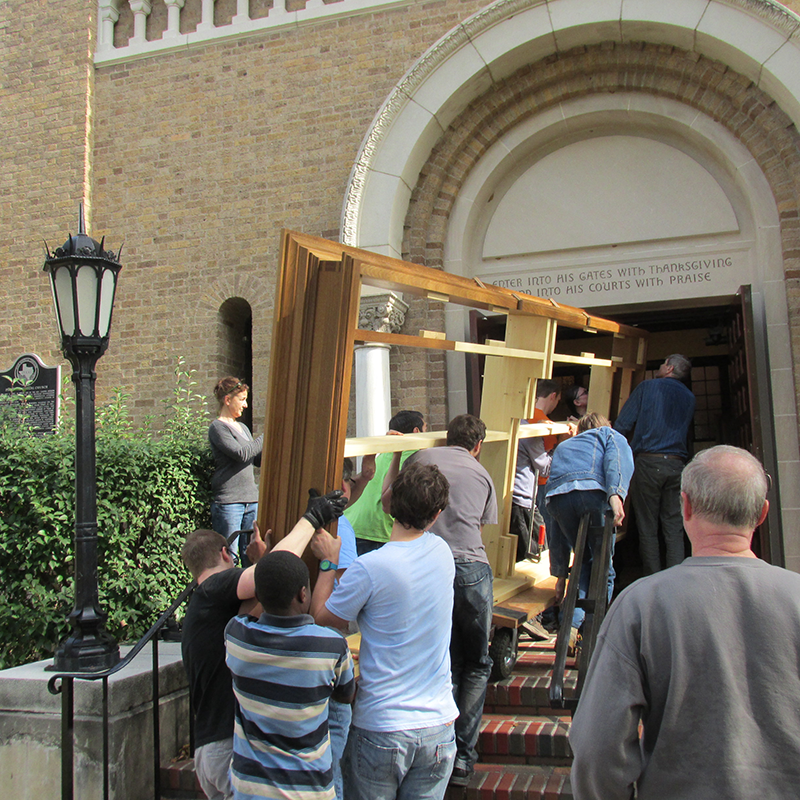 A piece of the new organ being carried into entrance of church.
"We're not gonna make it in the door with the dolly."
Members of First Evangelical Lutheran Church on Holman were on-hand to unload from a giant semi-trailer, bits and pieces of a brand new PASI organ and into the church nave. Crates of pipes and other parts of the towering organ were placed on the pews and floor, waiting to be assembled.
Martin Pasi is regarded as one of the finest organ builders in the country.
"My job is to fit this organ visually and the sound into this room, and I adjust each pipe, depending how they like the room. My job is to let the pipes do what they really want to do in here, in this room, and once that's accomplished, then I made it."
It is only the second such organ to come to Houston. The other one sits inside Sacred Heart Co-Cathedral downtown.
Pasi says assembly is only the first part of getting the organ to fit the church.
"Adjusting the pipes, the volume and the color of the sound to this room, and that's a long process. The tuning, the initial tuning is also kind of a lot of work because each needs to be cut with a chisel or tin snips, in order to get it right for the room."
No other instrument has been so intrinsically identified with worship and the church. Organist Dorry Shaddock says a tuned organ is as close to singing as you can get.
"I happened to go to a conference in Washington State, and the people at the conference went to a Sunday worship service at a church that had a Pasi organ, then I was very impressed. And when it's done, it'll be ready for use, and we're shooting for Easter Sunday, maybe even Palm Sunday."
Pastor Evan McClanahan says the organ will complement the worship of his congregation.
"We're committed to the object of values that liturgical worship and those traditions can testify to. We're committed to hymn singing, and it's so important to us that that is where we did choose to invest. And we chose to do it with Martin Pasi because we thought, in addition to other builders but he in particular, would build the sort of organ that would draw out you know, the praise of God."
Joining the choirs and soloists in traditional worship, the organ is regarded as the backbone of the musical service.