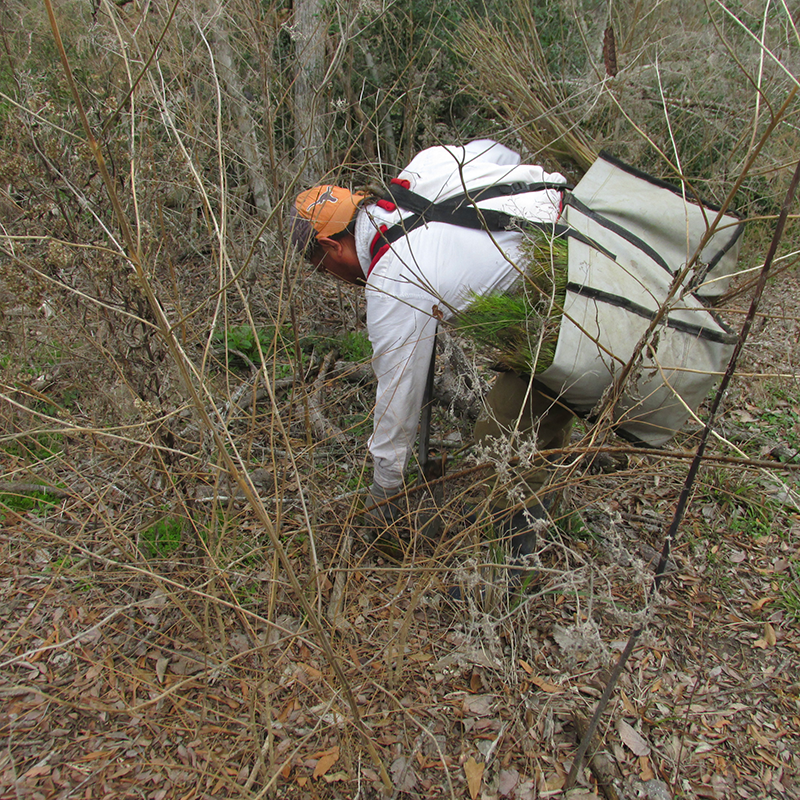 A contractor plants tree saplings at Memorial Park
Some 90,000 tree saplings have been planted all week at Memorial Park.
Shelly Arnold, executive director of Memorial Park Conservancy, says the trees are native to the park.
"The park actually hosts a variety of species of trees, and in a more healthy ecological setting, would feature a variety of species of trees. And so, we're planting different species of oak tree. We're planting cypress among others, and then of course our pine trees we're planting as well."
The variety of trees being planted will grow at different rates, depending on the species and condition, and as fast as naturally possible. She told me it'll provide a healthy canopy for the park.
"The whole idea is to create a healthy ecology for the park, and we'll continue to do that for the master planning process over the next decade. But this is a starting point for us, and for Houston Parks and Recreation, our very close partner in this effort."
Hernandez: "So what we're doing now, ten years later we're gonna see all the new growth benefitting this milestone?"
Arnold: "That's exactly right. The trees we're planting today, many of them will be sizeable in ten years."
Conservation Director Nicolas Butler says the diversity of the growth of different species of trees strengthens the ecology.
"We've got a little bit of a middle ground here. So we're got some genetically superior big trees that survived the drought, so that's a good thing for them. And their seed stock is gonna persist in the soil, right? And then the other thing is, we're adding these seedlings, and increasing the biodiversity from a species stand point. So we're planting a mixture of things, so it's not just a pine forest."
He says the mixture and placement of species in the park helps control the competition of growth.
"One of the stressers that got us to where we are was that there was too many big trees fighting for resources, and then the resources were much more scarce. So they were already stressed out, and then there was less to fight for."
The big trees that had fallen were cleared, leaving the rest of the forest floor litter to compost and become the topsoil, and eventually provide nutrients for the new growth. Memorial Park is 1503 acres, almost twice the size of Central Park in New York.