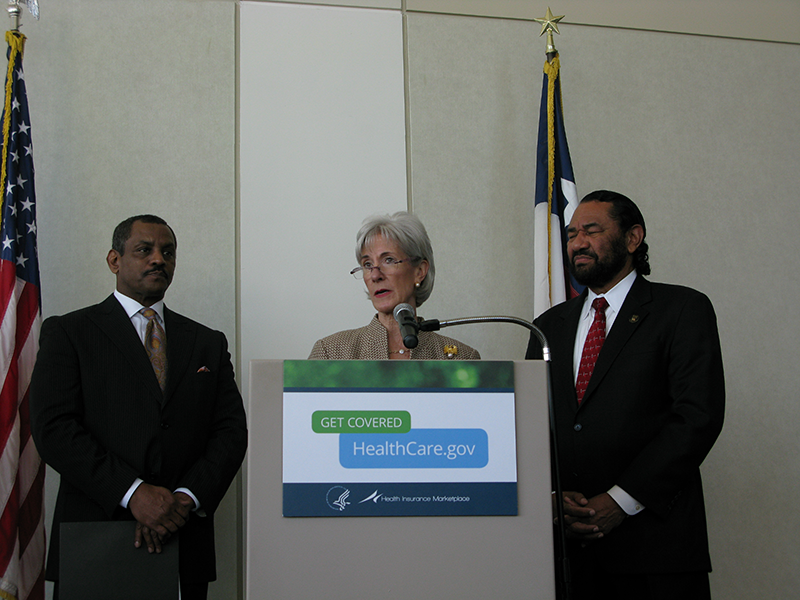 During a visit to Fountain of Praise, a Houston megachurch, Health and Human Services Secretary Kathleen Sebelius asked all religious leaders to urge uninsured worshippers to consider their options under the Affordable Care Act. Sebelius was joined by Pastor Remus Wright, left, and Congressman Al Green, right.
Uninsured people have until March 31 to purchase coverage on their own, or enroll in a government-subsidized plan. After that, they won't be able to enroll until next November.
And they may face a tax penalty.
Sebelius is urging pastors and other religious leaders to speak to worshippers about the benefits of the Affordable Care Act.
"There is nothing that replaces a one-on-one conversation. There is nothing that replaces a message from the pulpit that says to people this is part of our spiritual well-being and emotional well-being and physical well-being to get healthcare coverage."
Sebelius visited at Fountain of Praise in southwest Houston. It's a thriving Baptist megachurch with 22,000 members.
Remus Wright is the pastor.
"I believe every church institution ought to be a healing place, spirit, mind, soul and body. And therefore we must always endeavor to reach out into the community and help people within the community to have access to what they need."
The church has been hosting Obamacare enrollment events every Sunday and Wednesday, where worshippers can get help from an insurance counselor.
The church is also building a stand-alone health clinic that will open this summer.
Sebelius emphasized that there are more than one million uninsured people in the greater Houston area.
"The deadline is March 31. Almost four weeks left but don't delay. Today is the day to sign up."
Sebelius criticized state leaders for refusing the federal government's offer to expand — and pay for — Medicaid for the lowest-income Texans.
She also noted that Texas, like 16 other states, has passed laws to regulate the so-called health "navigators" who are helping people shop for insurance at places like Fountain of Praise.
Texas required those navigators to be fingerprinted and registered before continuing their outreach — currently 67 Navigators across the state are still unable to work while the state processes a backlog of registrations.
Sebelius says what Texas is doing is allowed by the federal law, but the delays and hold-ups are unfortunate for the uninsured.
"Right now Texas is within the bounds of the law but I would say going to great lengths to make it very difficult for people to get their questions answered."
This is Sebelius's fourth visit to Houston since August.
Texas has the highest uninsured rate in the country at 24 percent.