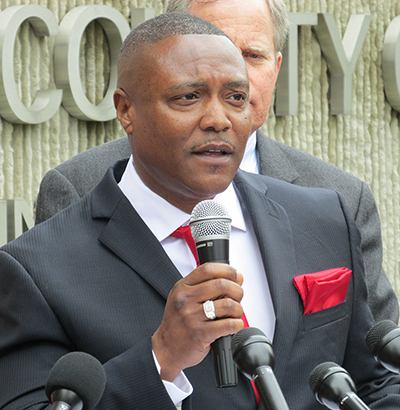 Anthony Graves could have been executed twice during his 18 years spent on Texas death row — after being wrongfully convicted in the 1992 murders of a grandmother and five children in Somerville. He was sent there by then Burleson County District Attorney Charles Sebesta. He withheld crucial evidence that implicated another man who was eventually put to death.
Standing alongside state lawmakers and others who pushed for his release, Graves announced an investigation of Sebesta has been launched by the State Bar of Texas.
"I was just a regular citizen. I was just a guy who worked and was trying to take care of his family, and I was wrongfully convicted. And I spent 18 1/2 years of my life, fighting for my freedom, because of a prosecutor who refused to play by the rules."
Graves is the first exoneree to file a grievance against the prosecutor, under a new law sponsored by state Senator Rodney Ellis, that begins the statute of limitations the day a person is released from prison.
"I really wonder and Anthony wonders how many other people were wrongfully convicted under that prosecutor in that county."
Nicole Casarez — an attorney who helped Graves win his release — says prosecutor Sebesta has admitted no wrongdoing:
"I know that tunnel vision is a problem in the criminal justice system and, perhaps they could have made a mistake, and I guess I just don't see that admission or that recognition that he could possibly be wrong."
Sbesta has 30 days to respond to the Texas State Bar's investigation that could result in disbarment.