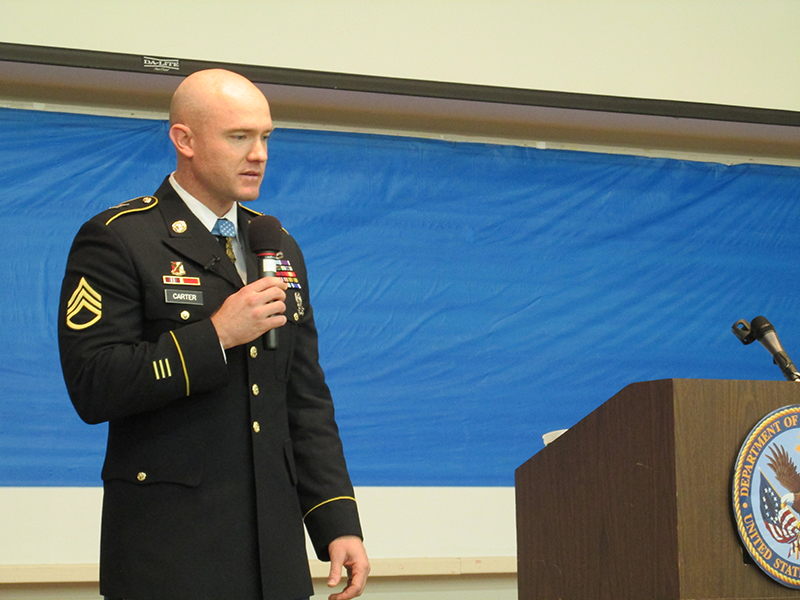 Medal of Honor recipient Ty Michael Carter talks to a veteran at Houston's Michael E. DeBakey VA Medical Center.
U.S. Army Staff Sgt. Ty Carter has made it his mission to fight the stigma of post-traumatic stress disorder.
Since receiving the nation's highest military honor last summer, the Afghanistan veteran has spoken at countless hospitals, gatherings and other events. At Houston's Michael E. DeBakey VA Medical Center, Carter spoke to staff and mental health patients.
He says that's actually helping him get over his PTSD. Or make that "PTS."
"I manage my post-traumatic stress — not the 'D' — with constant exposure to what was going on," he says.
Carter received the Medal of Honor for his bravery during a battle in Afghanistan where American soldiers were outnumbered 300 to about 50.
President Obama described what Carter did that day in October 2009 before awarding him the medal last summer.
"It was chaos. The blizzard of bullets and steel into which Ty ran, not once or twice or even a few times, but perhaps 10 times. And in doing so, he displayed the essence of true heroism."
Carter carried a wounded soldier through the hail of bullets that day. In the end, the soldier didn't survive and Carter felt that he had failed. Since then, he's received treatment for PTSD, and he's doing a lot better now.
"Just, I had to learn to talk myself down when the emotions start to come up," Carter says. "I had to remind myself, OK, I'm here, I'm not there. Yes, it did happen. It's OK, though, I'm with my family. And you just kind of have to, in your head, talk to yourself and let yourself know that it's going to be alright."
Carter says the biggest obstacle for those who are suffering from PTSD is the fact that's it's considered a disorder.
"If we remove the 'D,' we can possibly remove the stigma. If we remove the stigma, then individuals will be more enticed to seek the help that they require so they can improve the quality of their life."
He argues post-traumatic stress is a natural reaction that, on different levels, affects all people at some point in their lives.
He also calls on those suffering from it to listen to their friends and family and to seek help.