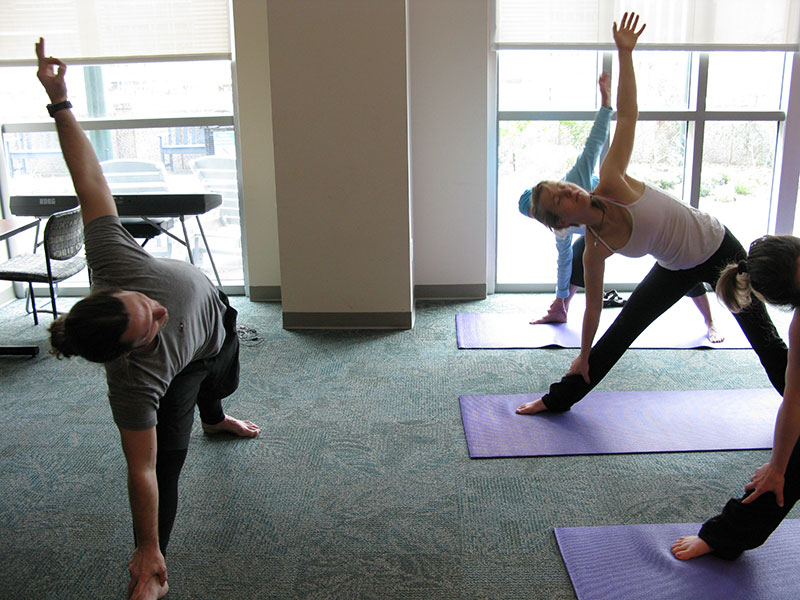 Cathal Keane leads a weekly Hatha yoga class for patients and caregivers at MD Anderson Cancer Care. He says the experience has inspired him to become a pre-med student.
A new study examines whether yoga can help some breast cancer patients. The study from MD Anderson Cancer Center used a new design that included two control groups to try to scientifically assess whether yoga has any benefit on stress hormones and quality of life.
Yoga instructor Cathal Keane teaches a hatha yoga class once a week at MD Anderson Cancer Center. "Open your right palm, spread your fingers," he said during a variation on triangle pose. "Be active from toe to finger, be aware of your body and your breath."
At MD Anderson, patients and their caregivers can choose from a range of alternative therapies, including massage, pilates, tai chai, meditation — even "laughing yoga."
Mark Gregory is a lymphoma patient from Lumberton, Texas. He just finished his second yoga class ever. "Right after, it's like the weight is lifted off of you, and you stay that way for several hours," he said.
Gregory, 52, had undergone a radiation treatment before the lunchtime class. His wife and niece joined him in the yoga session.
"It's a lot more work than I anticipated it being. I didn't realize how much effort it took to do the poses and everything," he explained. "I was skeptical going into it but I realize now that it's a neat and it's worth the time, because you feel so much better afterwards."
Over the past decade, studies about yoga have shown some benefits to cancer patients, but skeptics point out that many studies don't use objective outcome measurements or good controls.
The director of Integrative Medicine at MD Anderson, Lorenzo Cohen, Ph.D, says it was hard to pinpoint if the yoga itself was helping, or something associated with the class.
"Could it just be simply exercise, could it be actually coming together in groups?" he asked. "Could it be simply the extra attention that you're getting from the medical staff, from a yoga therapist?"
Cohen's new study specifically looked at women undergoing radiation therapy for breast cancer.
The study assigned the women to three groups — those who took yoga (including postures, controlled breathing exercise, meditation and relaxation techniques), those who took a basic stretching class, and those who did neither.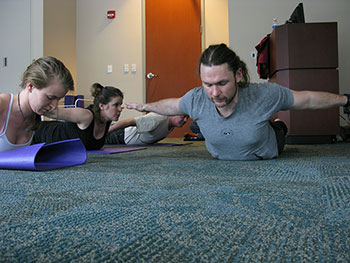 The study measured the womens' saliva levels of cortisol, a stress hormone, in addition to asking them about fatigue and other measures of quality of life. The results have just been published in the Journal of Clinical Oncology.
The women who did yoga and stretching reported less fatigue than the control group. But the women who did yoga also experienced better ability to engage in daily activities, better general health and more regular levels of cortisol.
There were no significant differences in other areas, like mental health or sleep quality.
Cohen says the way the study was designed may help convince skeptics and even persuade insurance companies to pay for some yoga.
"Practices like meditation, yoga, acupuncture, we're not exactly sure why they work," Cohen explained. "But with these types of studies where you can have appropriate control groups, have both biological measures, and psychological measures, it becomes much harder to say 'Oh that's all woo-woo interventions and there's nothing to them.'"
Cohen has received a $4.5 million grant from the National Cancer Institute for his work on yoga. The next phase of his research will investigate if yoga can help the hospital reduce health care costs or improve productivity when breast cancer survivors go back to work.
Back in the class, Keane thanked the students for attending, "That is your practice. Namaste everybody, thanks for coming."
Keane is a pre-med student who says his work at the cancer center was part of his decision to study medicine. He likes the scientific studies about yoga's benefits, but says he knows simply from talking to his students that they are being helped through yoga.
"I just love when they say it feels so good after yoga," Keane says. "To me that's great evidence."