Everybody knows vegetables are good for you. But that doesn't mean everybody is eating enough of them.
A year ago, the Recipe for Success Foundation launched the VegOut! Challenge for the first time to get more people to eat more veggies.
Gracie Cavnar is the founder of Recipe for Success.
"Most Houstonians, just like most Americans, only have a very narrow range of vegetables that they eat. And we're all supposed to be eating nine servings of fruits and vegetables a day, and there are dozens and dozens out there."
She says if you do something for 30 days, it becomes a habit. Plus, if you have to eat a different vegetable every day for a month, chances are you discover one that you haven't had yet and make it part of your regular diet.
Just like last year, Mayor Parker will take part in the challenge. It's one of many wellness initiatives her administration has been involved in, including the Million Pound Challenge that calls on Houstonians to lose weight, and an increased focus on bicycles as a means of transportation.
Parker says there's a good reason for that.
"We don't have a choice. We have to engage in a range of activities that make us more healthy. Because we are literally killing ourselves with our diets and our sedentary habits, and we are spending hundreds and hundreds of millions of dollars that we don't need to spend on health care."
She says health care costs for the city's workforce have gone down since the increased focus on a healthier lifestyle.
But a change in attitude may not be as easy for low-income communities, where access to healthful food and fresh produce is often limited.
But to be sure, Gracie Cavnar says money is not a factor in eating healthily.
"Now, eating fresh strawberries in December, yes, that might cost more. But if you choose your fruits and veggies and balance your diet with plant protein and you eat seasonally, you can affordably eat fresh fruit and produce and a healthy diet."
Mayor Parker says when she tried to live on food stamps for a week, which was part of another challenge last fall, she wasn't able to eat enough fresh produce. But she agrees that education and access are the two most important factors in getting people to eat more healthily.
"You can't tell people, oh, you have to go out and have a healthier diet if they don't have a car, they don't have access to a grocery store that provides healthier foods. So we're doing things like mobile veggie carts that, say, show up in a library parking lot where you can go and pick up vegetables that aren't available at your corner store."
The VegOut! Challenge will go on for the whole month of March.
You can sign up for the challenge here.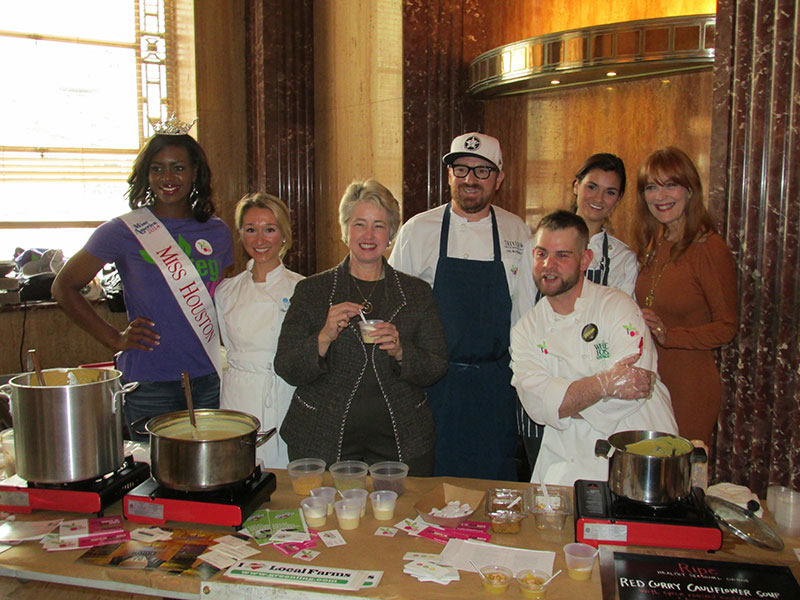 Mayor Parker poses with Recipe for Success founder Gracie Cavnar (right), Miss Houston 2014 and Houston area chefs.