The City Hall Farmer's Market is not what you may envision when you think of a farmer's market — you know, where you buy your fresh fruit and vegetables. This market has that, too. But most stands offer prepared foods. Like Esti's Best, which sells:
"Gluten/dairy/soy free cookie cups that are all made with organic vegetables, with local organic vegetables, and local honey."
Esti Arriaga started Esti's Best only six months ago. She currently sells her cookie cups at four different Houston area farmer's markets every week.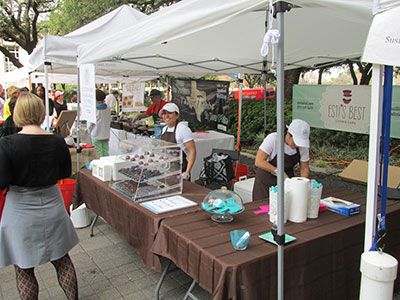 Esti Arriaga, founder of Esti's Best (left)
"I really love the interaction with the people and I think that there's a growing interest in local, organic produce and there's a growing interest in healthier alternatives, so I think the farmer's market is a great way to start a company."
Laura Spanjian is the city's sustainability director and helped bring the market to Tranquility Park in front of City Hall. She points out there are several vendors selling farm products, such as vegetables, eggs, goat cheese and olive oil. But then there also those who sell food made from local ingredients.
"We learned pretty quickly on that the downtown audience who we're trying to cater to really wants not only buy local items but they want lunch, they want to buy lunch as well. So we're trying to give them a two for one, and that's what we think we've accomplished with our market and that's why it's been so successful."
This is the fifth year for the market, which takes place every spring and fall. Spanjian says on average a couple of thousand people visit the City Hall Farmer's Market every week.
Maryann Wacker works only a few blocks away and tries to come here every Wednesday when the market is open.
"Oh, I love the variety of the foods available and just seeing people out and about and enjoying the day and it's just wonderful."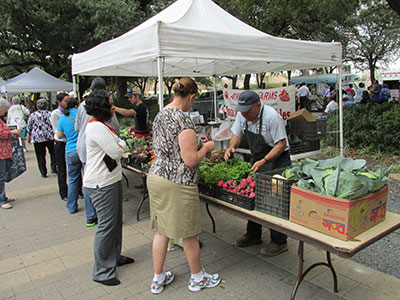 Keeping with her New Year's resolution to eat more healthily, she has bought some carrots and a cauliflower.
While Wacker, as a downtown employee, is probably the more typical market visitor, there's also a growing number of people who live in the vicinity.
Again, Laura Spanjian:
"You get parents with kids here, folks with their dogs, who clearly live here — live close by. They're walking to the market or taking Green Link or bike-share. So yeah, it's definitely for both."
She says the farmer's market, along with Discovery Green, Market Square Park and the city's bike-share program, is a big piece of the revitalization of downtown Houston.
The market is open from 11 a.m. to 1:30 p.m. every Wednesday through June. It then opens again in the fall.