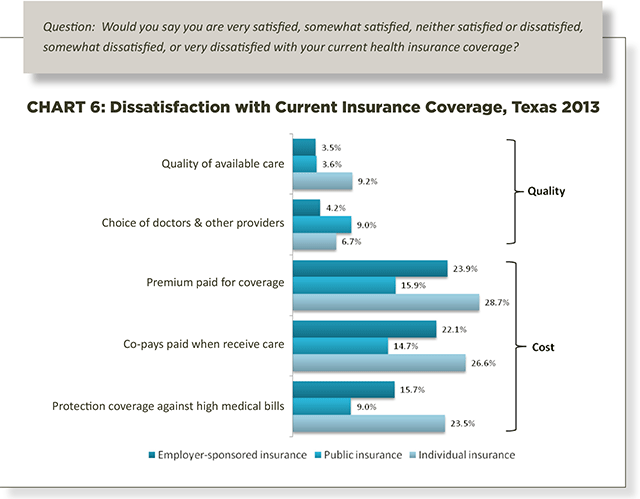 Credit: James A. Baker III Institute for Public Policy
­This snapshot of attitudes about healthcare was taken last September — that's significant because it was right before the October 1 rollout of the government's online health insurance marketplace.
That means this first survey will provide a baseline for comparison in the future.
One person who analyzed the survey results is Elena Marks.
She leads the Episcopal Health Foundation in Houston and studies healthy policy at Rice University:
"Both insured and uninsured populations found health services to be expensive. So even if you had insurance, whether it was the co-pays or the deductibles or co-insurance rates or premiums, that the access to care was not affordably priced."
The biggest complaint was that dental care is unaffordable — but Texans also complained about the cost of prescriptions and medical tests, even primary care.
As you might expect, people without insurance reported more problems paying for any of these services, but the big surprise of the survey was that people who have insurance also reported difficulties: 23 percent of them said they had trouble paying a medical bill.
Vivian Ho is a healthcare economist at Rice. She also helped analyze the survey.
Ho says all across the country, employers are forcing workers to pay a larger share of their insurance premiums, and also raising co-pays and deductibles.
"What I try to think about as an economist is: I just don't understand why more workers aren't complaining, publicly or to their human resource departments, about these high levels of premiums."
The Texas survey is part of a larger survey that will span 50 states and take place every three months.
Vivian Ho says she's looking forward to the results of the March survey.
Presumably, attitudes will change, as more Texans purchase new health coverage through the Obamacare marketplace.
"We are spending, really, billions of dollars on subsidies for people to purchase health insurance. So it's important to us to see: do these subsidies actually get more Texans covered with health insurance. Because they may not. If they do, then it's terrific, and we have to look what's the bang for the buck."
But while those subsidies will help some Texans, it's not clear if satisfaction levels will improve in future surveys.
That's because Texas, along with half the states, did not expand Medicaid to poor adults, so many Texans will remain uninsured.