Engineer Sam Lott with Kimley-Horn and Associates lead a study for TxDOT that considered several possible downtown locations. The site they identified as the most appropriate for a high-speed rail stop is the block currently occupied by the Amtrak Station and the main post office.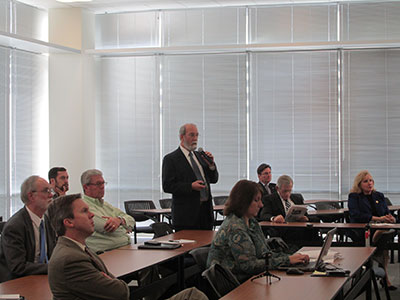 The study was presented by consulting engineer Sam Lott.
Lott says you need a location that can also serve other modes of transportation.
"And it's a facility that operates more like an airport terminal than a typical railroad station. That's a facility that's going to need substantial area and connectivity, and those are things we need to be thinking about right now."
High-speed rail has been discussed and studied in Texas for decades. It's far from a done deal at this point, but Lott says planners have to think ahead. He says if Houstonians don't change the way they get around, the city could face massive all-day congestion on both its freeways and surface streets in the next 25 years.
"High-speed rail would not necessarily solve that congestion problem. It's all the other modes that connect to the high-speed rail station that could be part of the solution."
A private company called Texas Central Railway is proposing a high-speed line between Houston and Dallas, and will soon start evironmental studies.