*This originally aired August 14, 2013.
You can't help but smile when you meet Kacee Pavelka, with her engaging eyes and warm and outgoing personality. That's despite an event that changed her life forever.
"In December 2011, I was in a DWI accident, which resulted in my right arm being amputated. I actually woke up on scene, and I remember quite a bit, but was shocked and everything, I wasn't in any pain."
Hernandez: "Was your arm mangled?"
Pavelka: "I was, the bicep had been completely cut, so you could see my bone through my bicep."
She says the adjustment was a challenge, but she persevered.
"Adaptation has become fairly easy. I was right-handed so, having to turn around and learn how to write, but also how to just go ahead and rehabilitate my whole left hand again."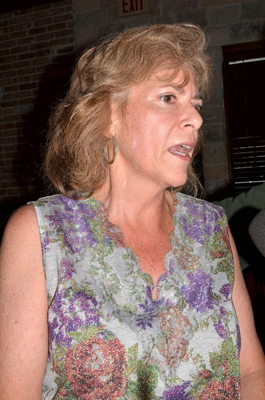 Deborah Hoffman, founder and president of Corridor Rescue [Photo by: Victor Palomares]
Part of her adjustment led to the discovery of Corridor Rescue, an animal rescue and rehabilitation group in Houston. Founder and president Deborah Hoffman says she's always been a pet lover:
"I eventually started working with other rescue groups over time, but I didn't really get into hands-on rescuing until about the time I discovered the corridor area."
The "Corridor of Cruelty" near Highway 59 and Little York Road is an area where animals are dumped and left to stray, reproduce or die from neglect.
She wasn't thinking about forming an organization though.
"I was already with a group. I started getting corridor dogs off the street and adopting them out through that group, and after I sent the email out — which is basically a call to action for help for these animals living so desperately in this area — things just took off and we needed to form a group."
She says the many volunteers help rehabilitate animals that are rescued, and Hank, who lost a leg to a blood clot, eventually found his way to Kacee.
"When you bring someone like Kacee and Carlos now known as Hank together — that have something in common — it's just an extra special cause for celebration."
Kacee says she can't imagine her life without Hank.
"Our very first bonding experience was when we were sitting next to each other on the floor. I was trying to get close with him, and he looks over and he starts looking where my arm would be. You know, so then I started rubbing where his arm would be, and that's when we both knew we had a similarity with each other."
More information on Corridor Rescue can be found at CorridorRescue.org.