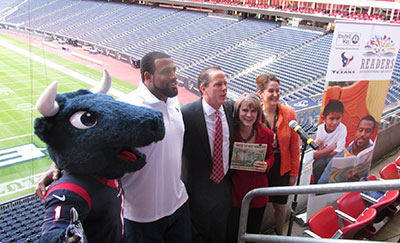 "This is 'A Turkey for Thanksgiving' by Eve Bunting."
That's Duane Brown. His day job is playing tackle for the Houston Texans.
But today he's reading to elementary students.
"Mrs. Moose clapped her hooves. 'I'm so happy to have you Turkey. Thank you, Mr. Moose. Now everything's perfect.'"
Brown says he reads to his own daughter and nieces and nephews when he's not on the football field
He joined this recent reading rally at Reliant Stadium to encourage hundreds of Houston students to keep on reading.
"I wouldn't be where I am now, that's for sure, without being able to read. I've seen instances where you know people did not learn how to read at a young age and they really struggled as they got older. And you know it's sad, it's sad to see something like that. And I think if kids have that force pushing them to get going in that direction, that it can help them be successful."
Here in Texas many students are falling behind in reading.
Less than a third of fourth graders in Texas scored proficient in reading on the recent Nation's Report Card.
That puts Texas 41st in the country in that subject.
Anna Babin is with the United Way of Greater Houston. She says that's a big concern.
"In the fourth grade you start making these transitions. You have to read science. You have to read geography or social studies. Can you imagine the frustration when you can't read? It makes a child lose interest or lose heart."
The United Way is trying to motivate students with this reading rally. It sent books home and challenged students to read 20 by March.
The nonprofit is also recruiting adult professionals to volunteer to read once a week with students at certain elementary schools.
Jack Cassidy says that's the best kind of practice. He's a retired professor from Texas A&M University in Corpus Christie and a national expert on literacy.
"The number one thing and it's been the number one thing for years is read to your child. But equally important I think, particularly when you're talking about young children is have the child read to the parent."
Not sure what to read? Well here are some suggestions.
"My favorite book is Where the Wild Things Are. I've read that to my children and my grandchildren"
"That'd probably be Green Eggs and Ham — Dr. Seuss."
"Once upon a time there was a grandma who ate leaves"
"Sophia the First — It's (about) a girl"
That's Anna Babin, Duane Brown, third grader Lance Rice and second grader Jasmin Casares.