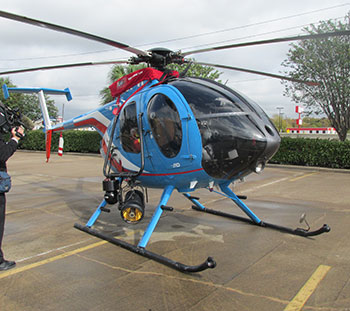 On display at the parking lot outside the Marriott were some of the "toys" used to help protect the Port of Houston: a Houston Police Department Tactical Support helicopter, a Harris County Sheriff's Department vessel called the SAFE boat and a vessel owned by the city of Baytown that can respond to a variety of threats.
Robin Riley chairs the Houston Ship Channel Security District.
He says economic activity at the Port of Houston helps keep Texas the nation's top exporting state, and the equipment is a key part of the security that ensures that activity for the port and petrochemical industry is uninterrupted.
"We do that by assessing the industry, and they actually voluntarily help create this district. We're the first district in the world like this. And by assessing them, we've been able to leverage the money that we collect from them on an 8-to-1 ratio, and use that to generate the funds to buy the assets that you see here today."
Exports from the Port of Houston topped $110 billion dollars in 2012, an annual increase of almost $6 billion. Riley says protecting that asset is important to the world.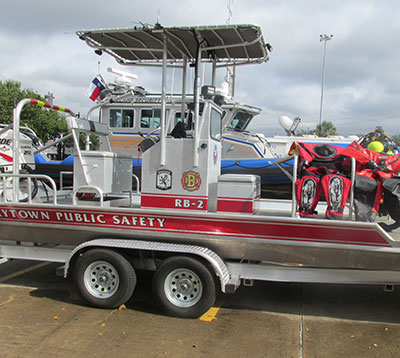 "If our port was shut down, it would cost us around $330 million dollars a day, and there's over a million jobs that are directly tied to the port."
Captain Brian Penoyer of the U.S. Coast Guard says one of his jobs as captain of the port is to make sure that the entire federal, state, local and private sector entities in the port are working together.
"I'm fortunate to have a partner like the Houston Ship Channel Security District, because not every place in the country has a governmental mechanism to rally the capabilities of the public sector, state and local government, alongside the public sector. It doesn't exist everywhere. In those cases, those entities have to collaborate the best they can independently."
Dennis Storemski, director of the Mayor's office of Public Safety and Homeland Security, calls maintaining valuable assets like the Port of Houston paramount to national economic growth.
"We have to work with the private sector to ensure that we're all secure. In the case of the Port, moving commerce up and down the ship channel is the life blood of a lot of industry along the channel so, it's to everybody's benefit to ensure that it's secure."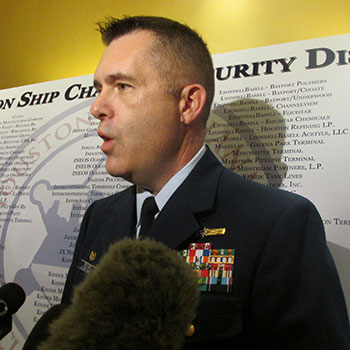 Captain Brian Penoyer of the U.S. Coast Guard
The Ship Channel Security District provides funding and ideas to regional law enforcement agencies to maintain port security.