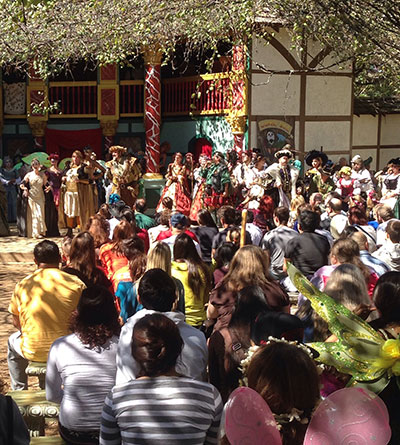 Royal Proclamation, held each day of the festival following a royal parade at noon. The King and Queen of the festival announce events tied in to the theme of the weekend.
"God save the Queen!"
"As well he should."
The sun is shining on New Market Village, a patch of 16th-century Europe nestled in the woods of 21st-century Grimes County. The blue skies mean lots of visitors to the Texas Renaissance Festival. That's a relief to the festival's merchants, who endured a soggy opening weekend.
"The weather has a lot to do with a Renaissance [Festival] day's business. If it's rainy, people don't want to leave their house."
Jordan Agudelo works at Excalibur Leather. The shop sells handmade leather goods, the sort that regular festival goers incorporate into their costumes. It's one of more than 500 independently run shops at the festival. For roughly half the merchants — including Agudelo — this world is a full-time job. These vendors spend much of the year on the road.
"The common term is 'the circuit.' It usually starts off with your home show, like Texas Renaissance Fair is mine, and from there you just kind of move along to what would be the most available next one you can go to, and so on and so forth until you return to your home festival."
The circuit can include up to six festivals a year for a full-time merchant. For those who aren't on the circuit year-round, running a festival business is still far more than a hobby.
Take Brad Pontani, or to use his full title, Dr. Bradley Pontani, medical director of the Southeast Texas Center for Wound Care and Hyperbaric Medicine. He's also the proprietor of Highland Rat.
"Tell me a bit about your business here."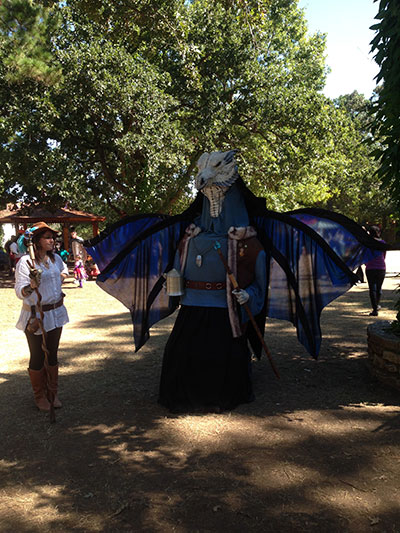 Elaborate dragon costume (Yes, there's a person in there). For many festival goers, working on a costume is a year round project.
"Well, I sell rats. Plague rats. Just basically stuffed rats. I've been doing it for 31 years, and I've had rats out here from the get go, from the first year I started the fair in 1982."
Pontani plans to make Highland Rat his full-time job when he retires from medicine. That's a common career path for part-time merchants. Mark Carboni runs Deep South Barrels. He makes and sells white oak barrels for aging spirits.
"I'm a robotics engineer. (laughs) Actually I am setting up a semi-retirement plan. My semi-retirement plan is to do this all year round, when I retire from the corporate world, and just travel around the country and work on weekends instead of the weeks."
The festival itself holds an annual job fair, about a month before it opens to the public. Many of the openings are part-time only, but they can lead to full-time work. That was the case for Jordan Agudelo, who attended the job fair in 2011. He now spends about six months a year as a crafter at Excalibur Leather's factory in California. The other six months, he's on the circuit, selling his wares at festivals around the country.
The Texas Renaissance Festival runs weekends through December 1.