Dozens of students are sitting in a dark theater. They're eager to play a game show.
"Give a round of applause to our first three contestants!"
This is a special game. It's called "The Bully Show". It's theater for children at A.D. Players in the Upper Kirby area.
"All right! And the name of our first game is 'How to be a bully'!"
The student contestants as well as the audience watch the actors play out scenes. They try to guess which ones show bullying.
"Your shoes are so last year. Don't you have any taste at all? Oops, sorry guess not!"
Later actress Kelsey Cratty tells the audience what's going.
"Bullying can also include incessant teasing and name-calling like in scene two. Using websites or email to make fun of someone like in scene three is also bulling. Even the silent treatment in the fourth scene showed bullying."
The point is bullying comes in different forms. Anyone can be a bully. Anyone can be a victim.
Victoria Calder is the director at the Texas School Safety Center.
She says theater can be a valuable tool to teach students about bullying.
"As with any other learning tool, you want to see — show me what it looks like —if you're learning anything and that applies to bullying as well."
Calder says the definition of what makes up bullying is changing. It's not just the stereotype of a big kid picking on a little kid on the playground.
In fact, two years ago state lawmakers put cyber bulling in the official definition.
Terra Gilder is a teacher in Klein Independent School District. She brought her sixth grade class to the show. She sees the different ways students may bully each other.
"They bully verbally a lot instead of physical. It's a lot of cyber bullying and just name calling. So kids don't realize when they talk about people or things on Facebook and things that they're bullying, but they are."
Sixth grader Fernando Alfaro says he now knows what to do if he sees bullying on campus.
"They can ignore them. Sometimes they can get help by the teacher."
That's the kind of proactive solution Kevin Dean hopes the play will encourage. He's the director of Children's Theater at A.D. Players.
Dean says there's one fundamental lesson he hopes the audience will take away.
"Whether you're an adult or whether you're a child, that you can sort of examine yourself, when I have been a bully? Because I think we've all been bullied and there are times that we all bully people, even today, you know?"
"The Bully Show" runs at AD Players through November 9th.
For show times, visit www.adplayers.org.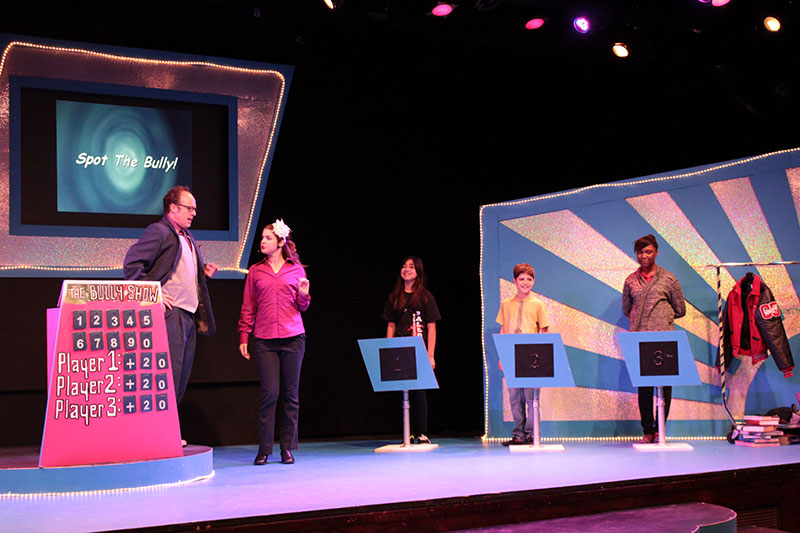 In the game show, students have to guess which scenarios represent bullying and get points if they guess correctly. There's a twist in the plot of the play that shows anyone can be a bully.