Hall chose the Power House Gym, a new business in southeast Houston, to outline what he says Mayor Annise Parker is doing wrong when it comes to economic development in Houston.
"In an area that has for too long been chronically ignored by the city, I'm proud to stand with Luis (Torres) because he is one example of what can happen if the city simply partners with the willing individuals in business."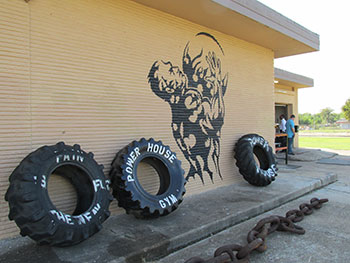 Power House Gym in southeast Houston.
He says Luis Torres got no help from the city when he decided to transform an abandoned building that was home to criminals to a gym for the low-income community.
Hall claims businesses have been leaving Houston because of the many fees and taxes that are asked of them.
Not surprisingly, the Parker campaign rejects that claim.
Sue Davis, campaign spokeswoman for Annise Parker says the mayor's Hire Houston First program gives preference to companies in Houston, providing thousands of jobs and millions of dollars to Houston businesses. And she says fees are only charged to cover costs for a particular service.
"Mr. Hall wants to cut property taxes, he wants to cut fees and yet he's got these grandiose ideas about underground cisterns and underground freeways and underground grade separations, and all of his ideas are only going to cost billions of dollars."
Hall's five-point economic plan includes a 2-cent reduction of property taxes; the creation of a new department charged with getting businesses to come to Houston; streamlining of regulatory and permitting procedures; prioritizing investment in parts of the city he calls unsustainable; and decentralizing the city's permitting and licensing functions.
For more, visit KUHF's Election Coverage and Information 2013.