"Houston streets can and should accommodate the needs of all users, not just those behind the wheel."
Parker says she's drafted an executive order that lays out what's called a "complete streets" policy. She's planning to sign it once it's reviewed by the City Council.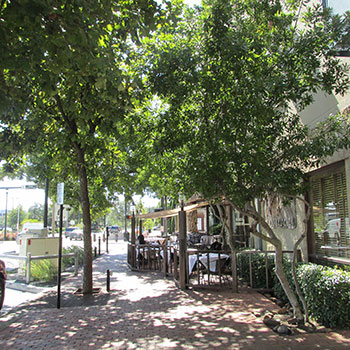 Bagby Street in Midtown Houston is the state's first Greenroads project
Parker says the executive order will serve as a blueprint for future street work, creating throughfares with lanes for bikes, and easily-accessible sidewalks for pedestrians and transit users. The policy also takes into consideration things like trees, to help keep the neighborhood cooler, as well as benches, green space, and drainage improvements.
"Now frankly it's always been possible to do a complete street in the city of Houston, but the default has always been, let's get those cars moving. Now we want the default to be a complete street and anything different from that to be something that has to be an exception."
Parker made her announcement on Midtown's Bagby Street, which was redesigned as the state's first Greenroads Project. Bagby features a mix of business and residential development designed to be pedestrian-friendly. There are newly-planted trees, along with benches, lighting, and rain gardens that facilitate drainage.
City Councilwoman Ellen Cohen represents the neighborhood.
"Since the announcement of the project we've already experienced several economic advantages including approximately $25 million in private development, a 20% rental market increase."
And the Bagby Street project is getting attention from outside the city. The Greenroads Foundation has awarded the project its Silver Certification, for its low impact development techniques and environmentally-friendly elements. The foundation's Jeralee Anderson says the organization looked all aspects of Bagby Street's design. That included building materials.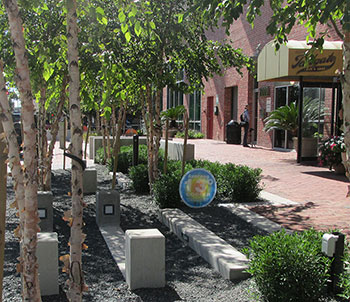 Rain gardens facilititate drainage on Bagby Street in Midtown Houston
"There's 20 percent of what's called fly ash, which is a waste product of coal production. And they put that in the concrete, it makes it stronger, it lasts longer. And that means as a taxpayer you're not paying for maintenance or construction delays, and waiting for someone to rebuild the street."
City officials say the Planning and Public Works Departments will oversee the complete streets program along with input from Metro.