As the rain poured down in Clear Lake we caught up with furloughed employee Paul Ron. He's been though shutdowns before and he says he's okay moneywise, but he adds his job is about much more than just a paycheck.
"Here at JSC, we love what we do. I mean, we're in it for life. It's aerospace. It's the coolest thing in the world. And so when we're not at work it's a little depressing. But it should end, it should all end soon."
Around the country about 18,000 NASA employees are off the job. That includes about 3,000 workers here in Houston. Some contract employees have also been sent home. But a skeleton crew remains in place to monitor activities on the International Space Station, and that includes subcontractor Mike Trenchard.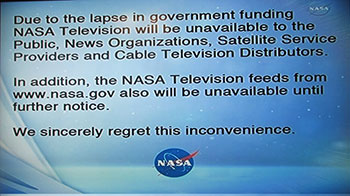 Screenshot of NASA TV
"We just have some new people up on the space station. They're getting used to the environment and I think it's good for them to know they've got full support from the ground."
Trenchard has been working in the aerospace industry for 35 years. He's been through previous furloughs, but he says it's still frustrating to see what's happening in Washington.
"The use of government employees and contractors to try and drive this home is very irksome."
But what does the shutdown mean for the local economy?
Bob Mitchell is president of the Bay Area Houston Economic Partnership. He's not expecting a major impact on local businesses, especially if employees keep getting paid.
"The Johnson Space Center is the heart and soul of the area. But from an employee standpoint, they're probably number three in line When you look at the health care industry, you look at the specialty chemical industry we have here, the Johnson Space Center from a total employee, direct employee stand, is probably number three in line."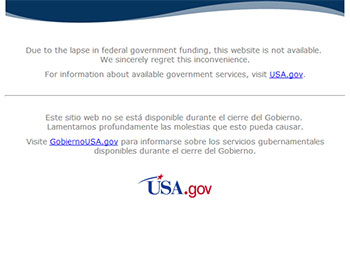 Screenshot from the NASA website
But Mitchell shares the frustration of workers who were told to go home.
"I kind of look at it like this. I'm not going to be real negative about this whole process. I think maybe at the end of the day, or at the end of ten days, that maybe our bureaucracy in Washington, D.C., some of those people learn how to work together, to come up with solutions."
Despite the furloughs, Space Center Houston is still open to visitors since it's a separate operation.