(Public Address Audio)
When you look through news stories and blog posts about the Astros these days, you'll see a lot of the same phrases, words like "historically bad," "rock bottom," and "gruesome."
So how rough is it?
While other teams get ready for postseason play, the Astros this week had the dubious distinction of hitting the 100 loss mark.
Strings of defeats and the lack of a marquee roster have lead to a lot of empty seats at Minute Maid Park, but there's still a devoted fan base, and those fans are greeted with a smile by security guard Bracey Burnett.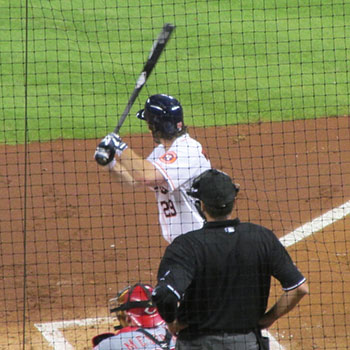 Astros First Baseman Brett Wallace at bat against the Cincinnati Reds
"The younger fans are just having fun and are glad to be at the ball park but some of them are getting a little bit impatient. The older fans, with certain situations that are going on with the team, they're kind of getting depressed a little bit, but they still come."
And there's somebody else who's still coming to the games:
"You're just in time to meet one of the Astros legends, Larry Dierker. Do you know Larry Dierker?"
"Can you introduce me?"
"I sure can."
For the past few decades Dierker has seen the Astros from all sides, as a player, a manager, and a broadcaster.
And what he's seeing this season is nothing new.
"When you rebuild you're taking a chance on young guys, and sometimes they get better and sometimes they don't, and so sometimes you rebuild for a couple of years and you go oops, that didn't work, we're going to have to rebuild some more. Sometimes, and it's happened three or four times to different teams in the last decade, it takes about three years and you're in the playoffs again."
But no playoffs this year.
The Astros play their final home game against the Yankees September 29.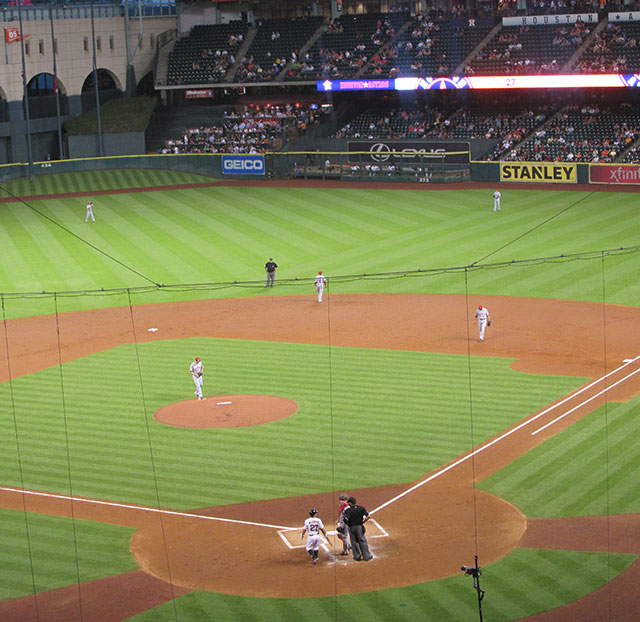 Attendance was just under 30,000 when the Astros played the Cincinnati Reds September 18