"If you're thinking about going vegan, you're not going to miss the meat. It's excellent."
"The flavor is delicious …"
Vendor Stephanie Hoban is winning praise from customers for her vegan burgers. Hoban's business is called Ripe, and she's been selling meatless meals at pop-up cafes. She's now branched out to the City Hall Farmers' Market.
"It surprises people, because they look at it and they visually see it looks good, and when you tell them it's healthy they're kind of like, I don't know, should I eat it? And when they get the opportunity to taste and enjoy it I think it opens their mind and expands their horizons to try something new that will be healthy for them."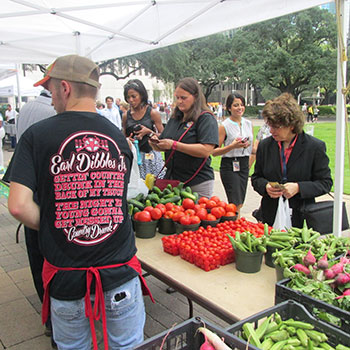 Lunchtime crowds turn out for the reopening of the City Hall Farmers Market
But if meatless isn't your thing, you can also try the Texas Rabbit Risotto.
"And it's local rabbit, coming from the Texas Hill Country."
That's Matthew Zoch. He's the pastry chef at Prego in Rice Village. Today he's handing out free samples.
"Everyone right now is enjoying it. We get a lot of customers coming out to Prego from it. And it's great. Everyone's loving that we're using local ingredients and we try our hardest to do that."
The City Hall Farmers Market started back in 2010, and it's grown from 20 vendors to close to 40. Some vendors sell farm produce and homemade products. Others sell prepared dishes made with fruits and vegetables that are grown around Houston.
Tyler Horne is with Urban Harvest, the group that sponsors the market.
"It gives kind of a new dynamic to what the traditional farmers' market is. We've got goat farmers and chicken farmers here, and vegetable farmers, but we've also got a lot of people doing unique cuisines."
And Horne says one of the goals of the market is to make it easier for busy Houstonians to eat healthy.
"One of the reasons that we've been really successful in introducing healthy food to people is because it's available straight from the farmers' market. So we help the chefs kind of tie in straight to the local vegetables. And they tell their customers that, so one of the aims is when our customers shop here, they know they are getting something straight from a farmer."
The Farmers' Market is held every Wednesday from 11:00 a.m. to 2:00 p.m. at the City Hall reflection pool.