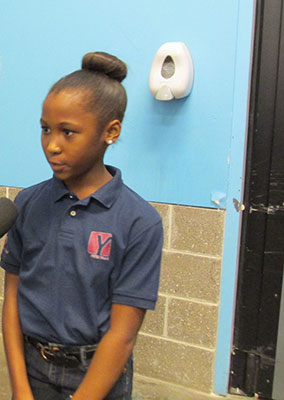 Aquarius Ross
Students from Yes Prep West and 5th Ward worked throughout the HFB facility, sorting and boxing food, and getting hands-on instruction on the importance of service to others.
Jamie Horton is a teacher at Yes Prep. She says they try to use the annual observance of 9/11 to show the students relevance in everyday life.
"Social justice is one of our core values, and we go on service trips once every six weeks. And so, the kids get to come back to that same location and really feel connected. And that way they can see that the world is not a perfect world, but they have the opportunity to give back."
Jacob Villas and other students were too young to remember that fateful day, but they understand the importance of service to families in need.
"I'm stacking food for the homeless and helping out."
Hernandez: "Who am I talking to?"
"Aquarius Ross."
Hernandez: "Does it make you appreciate what you eat when you do this?"
Ross: "Yes."
The Food Bank's Perry McAffee says they depend on volunteers to help get the food out.
"When we reach out to students like Yes Prep West and Yes Prep 5th Ward, they are providing the Food Bank and really great service, to provide meals for families in need."
About 137,000 people in the Houston area are feed each week by the Houston Food Bank.