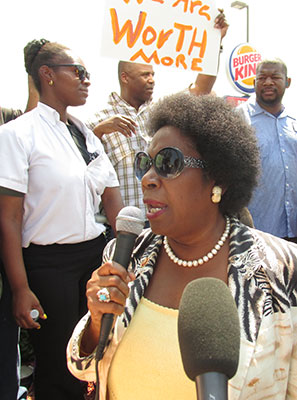 U.S. Rep. Sheila Jackson-Lee, D-Houston at the strike
Workers walked off their jobs during breakfast and lunch hours.
Susan Fajardo works at a Jack-in-the-Box in southwest Houston. She took part in the effort calling for an increase in the minimum wage from $7.25 to $15 dollars an hour.
"I don't think nobody can survive on $7.25. Everybody has bills to pay and everybody's trying to get 'em paid."
Local organizers say Texas leads the country with the highest number of low wage jobs.
U.S. Rep. Sheila Jackson-Lee, D-Houston was one of several lawmakers who backed the striking workers.
"I am here today to ask the United States Congress to put on the floor of the House of Representative and the Senate, a bill that would pass and increase the minimum wage to a livable wage, and have the President of the United States sign it."
But fast food giants like McDonalds and Burger King say they don't make decisions about pay for the independent franchisees that operate the majority of their restaurants.
Kevin Troutman is a Houston attorney who focuses on employment law. He resolving the wage issue might be easier said than done.
"No matter what Congress does, they can't change economic reality, and the economic reality is that significant changes in pay raise on the low-end of the scale are just not gonna be economically viable."
He adds that a change in the minimum wage would no doubt result in higher prices on the menu. About 2,500 of the nation's millions of fast-food workers walked off their jobs in protest.