Last week the U.S. Supreme Court struck down the portion of the law that determined which states and local governments were subject to extra federal scrutiny, given a history of past discrimination against ethnic minorities.
Texas was one of the states.
Reginald Lille is president of the Houston NAACP. He says the high court ruling sets the stage for minorities to be disenfranchised, or deprived of their right to vote.
"The Voting Rights Act only reinforces what the Constitution has said — that we have to have another law to reinforce what the Constitution gives us — but we do. So, it was a tremendous blow to the voting rights of many Americans, and we gotta see this as not just affecting minorities, not just the disabled, but this is an American issue."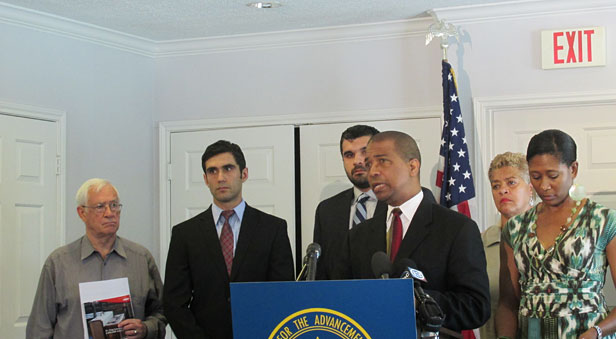 From left to right: David Atwood, Amin Alehashem, Reginald Lille (speaking), and other voting rights advocates
David Atwood with the Houston Peace and Justice Center says it's their goal to fill the vacuum.
"Just after the Supreme Court made this ruling, the Texas Attorney General Greg Abbott announced plans to require photo identification cards in order to vote in Texas. This was another blow to democracy. We are moving farther to the political right, and father away from government of by and for the people."
Amin Alehashem — Houston director of the Texas Civil Rights Project — announced the creation of a statewide Voting Rights Initiative. Attorneys working pro-bono will stand ready to file cases in state and federal court against local jurisdictions that make changes affecting minority rights.
"We are going to bring on an additional person dedicated solely to this issue, because Congress must act, but at this point and all the polls show, no one has faith in Congress, and we're not waiting for Congress to act. We are going to make sure that we have eyes and ears on the ground, in order to ensure that one of your basic liberties and freedoms is the right to vote, and when you take that away, what freedom or right is really left?"
Peter Linzer: "This is a real game changer in the whole question of voting."
Professor Peter Linzer teaches law at the University of Houston.
"I expect that we will see more litigations going on, challenging things like the ID law, the photo ID law and maybe changes in district lines, but the burden will be on the people challenging the state from now on."
It will now be up to local groups to do the work that the Justice Department had done, like finding if minorities are disproportionately affected by changes in voting laws and boundaries.