Just outside the Beltway in Alief, there's a shiny silver campus for nearly 2,000 students.
"This is our Mother Ship," says Mike Feinberg.
He started KIPP, the Knowledge is Power Program, more than 20 years ago inside Garcia Elementary in Houston. It has since grown into a national network of charter schools, enrolling more than 40,000 students across the country.
But this shiny silver campus is really where it took off. It's where teachers and leaders still come to get "KIPP-natized," Feinberg jokes.
This year could be a big year for KIPP. They find out on July 2 if they win the Broad Prize for charter schools.
They are the latest school system in the Houston area to get noticed by the Broad Foundation. Last year, Houston-grown charter network Yes Prep won the inaugural Broad Prize for public charter schools. It comes with $250,000.
Back in 2002, the Houston Independent School District won the first ever Broad Prize.
Since then, Aldine ISD won it in 2009.
And HISD is in the running again this year, making the largest school district in Texas a finalist for the second year in a row.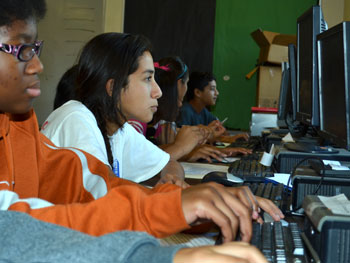 Feinberg says several factors make Houston "ground zero" for education reform.
"Houston's a very generous community, a very philanthropic community. Some of the typical regulatory barriers in other seasoned states aren't here in Texas," Feinberg says.
"It's a right to work state. There are other things going that all collectively makes this fertile ground for new and innovative things in education to happen."
Some say it has a lot to do with very culture of Houston, the storied home of astronauts and doctors who break the barriers of science.
HISD Superintendent Terry Grier calls it a "can-do" place.
"When you look at Houston's history as a city and looking at the school district, we're not afraid of innovation, we're not afraid of challenge," Grier says.
That spirit strikes Shelley Billig, vice president of RMC Research Corporation.
She's leading the research team to see who wins this year's Broad Prize.
"Houston's an amazingly innovative place. People are really courageous around here, they're willing to take bold moves to do the right thing. There's a stronger push in equity here than other places in the nation," Billig said at a recent visit to Ortiz Middle School in Southeast Houston.
By equity she means that "every student has an opportunity to score at the advanced level on any given assessment."
The test scores of minority students at KIPP and HISD were highlighted when the Broad Foundation named them finalists this year for the two different prizes.
For example, more Hispanic students at KIPP schools are taking Advanced Placement exams. Their participation in the college-level tests increased by an average 10 percentage points each year between 2009 and 2012. The passing rates of Hispanic students on the exams also increased an average of 6 percent each year.
But some say success needs other measures beyond test scores and college enrollment.
Julian Vasquez Heilig is an education researcher at the University of Texas at Austin.
He says the Broad Foundation recognizes education reform efforts that are borrowed from the corporate world, look at students as "widgets" and rely heavily on data.
"There's much more broad based measures of assessing whether schools and districts are successful than these very simple high stakes exams and how many AP classes they took and whether they had 100 percent," he said.
Vasquez Heilig would like to see other measures, like how many of their students finish college, before a school system is named the best in the country.
Jason Bernal, president of YES Prep, says he hasn't heard of the Broad Prize as an award for corporate-minded school reform.
And in way, he says it doesn't matter.
"We want to take the best practices, not just from schools, you want to take the best practices anywhere in the world … and make sure our kids receive a quality education," Bernal said.