Over a thousand Texas flags were neatly placed In front of the Gerald D. Hines Waterfall near the Galleria. The 1,170 flags represent the number of people who lost their lives on Texas roadways due to a drunk driver.
Kay and Dennis Pennywell's son Aaron was a victim.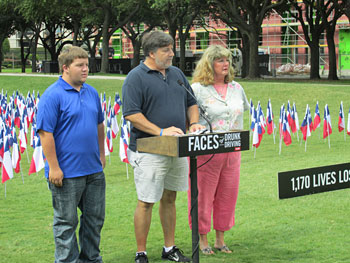 From left to right: Craig, Dennis and Kay Pennywell, brother and parents of DWI victim Aaron Pennywell
Kay Pennywell: "Drunk driving is real preventable, and and it's hard to go through life with a son."
Dennis Pennywell: "Two years ago, I couldn't have imagined what people go through that have this sort of thing happen. Look at 1170 flags here, that represent just one year alone just in Texas. It happens too many times to too many people."
In Harris County, Sheriff Adrian Garcia says the number one reason people die in auto accidents is because of impaired driving.
"Don't drink if you plan on driving and don't drink if you've been drinking, because it's against the law to drive while drunk. All you need is .08 blood alcohol content in you system, which is virtually a beer and a half, to find yourself on the wrong end of the law, and finding yourself in one of my jail cells, if you're out there putting someone in harm's way."
Captain Larry Bainbridge with the Houston Police Department says it's not worth the aggravation of being arrested for a DWI.
"If you're planning on going out, make sure you have someone's who's going to drive, or take a taxi. When you look at the cost of a taxi, regardless of how far away from the venue you're going to is, it's incredibly cheaper than just the fines alone you would face if you get arrested for DWI."
Penalties include jail time, a suspended driver's license and upwards of $17,000 dollars in fines, legal fees and maybe living with the memory of a life that you took.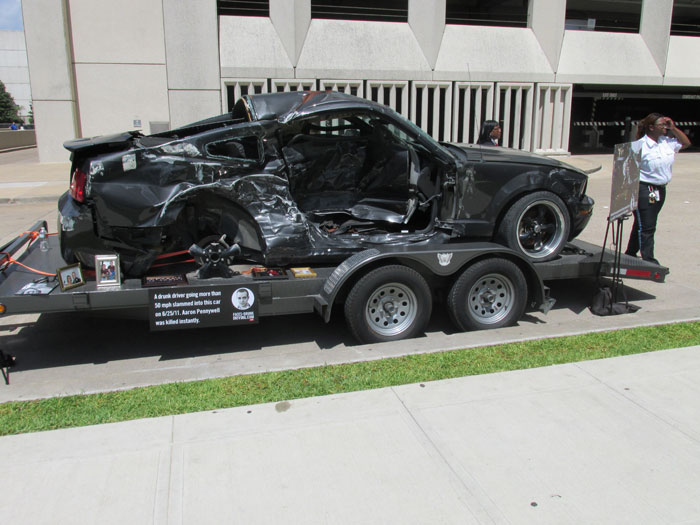 The car Aaron Pennywell was driving when he was killed by a DWI driver