With the X1 platform, Comcast joins rivals like AT&T's U-Verse with DVRs that have the ability to record up to four shows at once.
Michael Bybee with Comcast in Houston says the X1 comes with a much-improved user interface that's heavy on the graphics.
"Unified search and instant play, along with recommendations. The ability to find entertainment content in seconds — again, from TV listings, DVR recordings, and Xfinity on-demand, all using this new smart remote."
The brand-new remote sheds about 20 buttons from the current model. It uses an RF signal, meaning you don't have to point it at the DVR for it to get the command.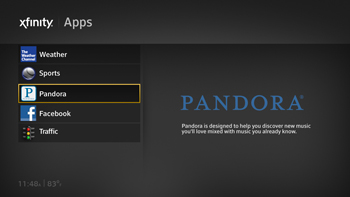 The Xfinity apps screen. Comcast provided this image.
The X1 can also be paired with Apple devices.
"Customers can speak into their device and dictate what they're looking for. Or use the device's virtual keyboard to search among, and play, tens of thousands of video choices on their TVs, faster than ever before."
Bybee says a similar app for Android devices should come out in the next month or two.
The X1 DVR is available to all customers who subscribe to at least three Comcast services. Customers who have an old DVR will pay $30 to upgrade. New customers will get the box installed for free. The monthly charge will remain the same.