More than a hundred fourth graders are playing in the gym at Berry Elementary in North Houston.
Some jump rope. Some slide on scooters.
One group plays a game called switch. Nathan Trejo says it's like baseball – without the bat and ball.
"That's how they play. Watch, the one in the middle has to try to get to the base and if somebody is out, they're going to do paper rock, scissors."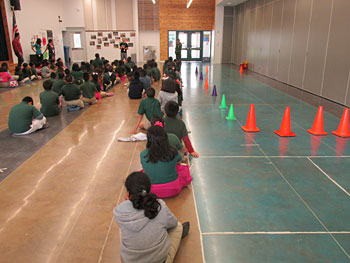 At the end of recess, the fourth graders line up and prepare to return to their classroom. A recent study shows organized recess with Playworks can smooth the transition back to class and save on learning time.
It seems like a simple game.
But a new study released this week shows that type of structured play time can improve a school's learning environment.
Jill Vialet is the CEO and founder of Playworks.
The national nonprofit partners with Berry Elementary and other schools in Houston, Alief, Spring Branch and some charter schools.
"Paying attention to recess this way can have all these effects at once: the decreasing bullying, the increasing sense of safety, getting kids more physically active and recovering instructional time. I think that's the solution that we really need to build schools that our kids deserve."
The study adds to other research that physical activity during the school day can help students learn.
In Texas, elementary students are supposed to spend an average of 30 minutes a day being active. But it can be hard for schools to make that happen with budgets cuts and pressure to perform on tests.
Vialet thinks the attitude toward recess is changing.
"There was a trend I think towards looking at reducing and eliminating recess. But what we've seen is the tide has turned on that. People are really bringing it back and the focus is recognizing in fact eliminating recess or taking it away from kids when they're having behavior issues is really counterproductive."
The principal at Berry Elementary is Deborah Silber. She says the structured play time teaches students important skills.
"Instead of fighting outside, they spend their time learning how to play. It's teaching them team work. It's teaching them how to be determined. So it really, really has an impact on our school."
The nonprofit Playworks hopes to expand to more schools in Texas.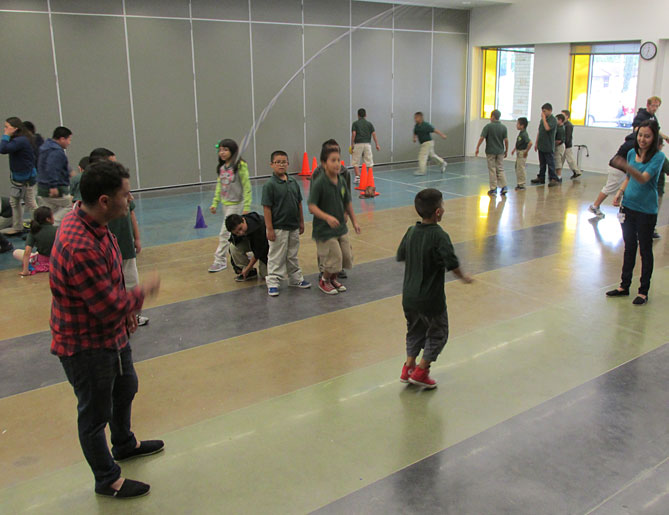 During recess, more than 100 fourth graders at Berry Elementary can join several organized games, like jump rope.