A big cheer goes up as another mail truck pulls in front of the Houston Food Bank's massive warehouse near the East Freeway.
Postal workers then start unloading boxes filled with pasta, canned goods, and cereal. They collected those items during last weekend's door-to-door "Stamp Out Hunger" food drive. It's an annual effort that provides about 300,000 meals for hungry Houstonians.
Pat Claiborne is with the Houston branch of the National Association of Letter Carriers.
"Letter carriers throughout the day, not only being professional letter carriers, they come across all kinds, all types of people. They see a lot of hunger."
The Food Bank's Brian Greene says the big donation is a huge boost to their efforts. The hunger relief charity Feeding America has just ranked the Houston Food Bank as the largest distribution food bank in the country.
Figures show the Food Bank is distributing close to seven million pounds of food every month in its 18-county service area. But Greene says according to Census Bureau figures a lot of people still don't have enough to eat.
"Despite all we're doing today, it works out to about 53,000 people who will go hungry in the greater Houston area. So demand is way above what we do, we're just trying to do a better job of meeting it."
The Food Bank currently serves about 140,000 households a week. 95 percent of those households have children. And Greene says over half of those households have adults with full-time jobs.
"The households that are experiencing food insecurity, and even about half the households that are going hungry, are actually not households below the poverty level, and so in many cases they're not qualified for federal benefits but they're still not making enough money to make ends meet."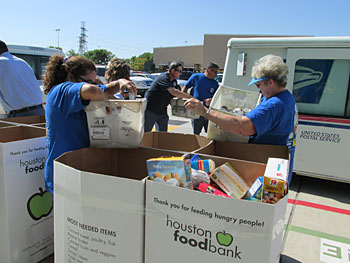 Houston volunteers are uppacking and sorting donations collected during last weekend's door-to-door "Stamp Out Hunger" food drive.
And when there's not enough money coming in people have to make choices.
"As cruel as it sounds, hunger becomes a rational choice if you can't pay all your bills, because the other bills are binary. You have to pay all of your rent. You can't pay 90%. And so what people will do, they'll either go hungry or buy the less nutritional food."
Greene says the Houston area is going to see hunger until economic success reaches every household. But until that happens, volunteers will stay hard at work at the Food Bank's 308,000 square foot warehouse. Greene says every volunteer hour translates into $75 dollars worth of food for a hungry family.