The National Highway Traffic Safety Administration estimates "Click It or Ticket" has saved nearly 3,700 lives and prevented more than 50,000 serious injuries since its launch in 2002. While Texas ranks in the top ten in the nation for overall seat belt use, Captain Derek Rodriguez with DPS thinks the state can do better.
"Preliminary numbers show that about 3,400 people were killed in Texas last year in traffic crashes. Of those fatalities, 45 percent of them were not wearing a seat belt. The Department of Public Safety prefers voluntary compliance with traffic laws, but those staggering numbers are the primary reason that we'll be out on the streets and highways, issuing citations to drivers and passengers that refuse to buckle up."
Harris County Sheriff Adrian Garcia says Texas law requires every passenger of a vehicle to wear a seat belt, or risk a ticket and fines up to $200 dollars plus court costs.
"We'd like to give you a ticket and send you about your way. And if requires you spending some time in the county jail, we're happy to oblige you if it means keeping you alive, so that you can explain to your family, your loved one, your co-workers the embarrassment that you could have saved yourself by securing that seat belt."
Last year, the Houston Police Department issued more than 46,000 tickets to people for not wearing their seat belt. Assistant Chief Dan Perales says too often they see the consequences of motorists who do not buckle up.
"There's nothing enjoyable to us, about handing out tickets. But like other law enforcement agencies around the state, we will be out in force from May 20 through June 2, ticketing drivers and passengers who are not wearing their seat belts."
When Click It or Ticket began 11 years ago, only 76 percent of Texans buckled up. That number has improved to nearly 94 percent.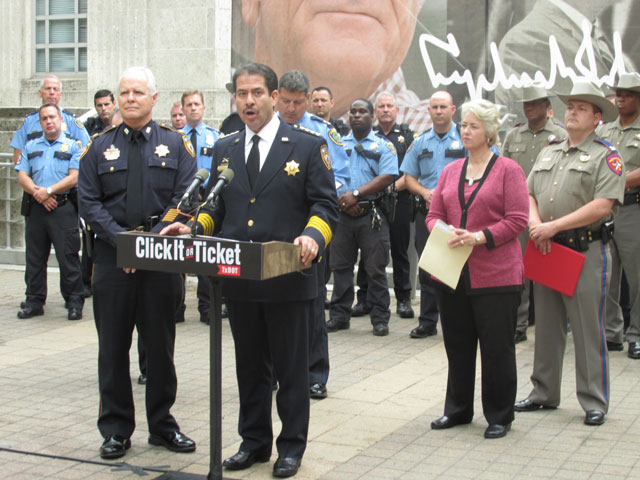 Harris County Sheriff Adrian Garcia with HCSO Major Robert Van Pelt, behind him are Mayor Annise Parker and DPS Captain Derek Rodriguez and members of HPD, HCSO and DPS