At a public meeting on Heights Boulevard, neighbors hovered over maps as they pointed out the trouble spots.
Heights residents say one of the things that makes it difficult to get around these days is the heavy amount of traffic near the new retail developments at Yale and Highway I-10.
The interchanges were built by TxDOT, but Blake Masters with the Greater Heights Super Neighborhood Council says he wishes the planning department would include them in its study.
"The best approach right now would be, I guess, you know, slow down massive oversized retail developments where there's not sufficient infrastructure to support it."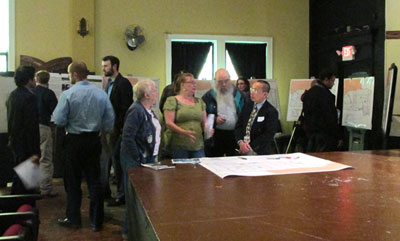 On the other side of the Heights, longtime resident Donna Clanton is worried about congestion on North Main Street.
Clanton says there's a lot of traffic coming in from the 610 Loop, and that causes big delays for buses at the Heights Transit Center.
"The drivers get stressed because they're supposed to be keeping a schedule. And they can't when they're sitting there and sitting there and sitting there waiting for the light. We're gnashing our teeth because we're trying to get to work."
City Planners say the purpose of the Heights-Northside Mobility Study is to identify near and long-range projects, things like street and sidewalk improvements and better bike access.
There's another public meeting tonight at 6 p.m. at Candlelight Park. Northside residents can also give their input online.