At the University of Houston, senior Andrew Knope is studying Chicano history.
He's learning things like how a big part of the Southwest United States used to be part of Mexico.
"Chicano history is a part of American history in a sense. Maybe it's not a part of early American history but Mexican Americans have been here just as long as we have."
The course will count for his minor in Mexican American studies.
But the Chicano history class can also count toward the core degree requirement for American history.
Knope thinks that makes sense because by the time they're in college most students have taken basic U.S. history.
"People often ask, 'Why do you have to take it again in college? You've already been studying it like your whole life.' Some people want something new, some people want like to study Chicano history. They should be given the option to study those too."
But state senator Dan Patrick wants to eliminate that option.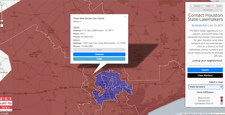 To contact TX Sen. Dan Patrick,
visit KUHF's Lawmaker Locator Map
Patrick – a Houston area Republican – has filed a bill that would change the state law, so that the American history degree requirement can only be met with what's called a comprehensive survey class – a class that takes a broad approach to U.S. history.
The whole idea is based on a report by the National Association of Scholars, a conservative leaning group.
Peter Wood is the president. He says they analyzed classes that count as American history at the University of Texas at Austin and Texas A&M. And they were surprised what they found.
"We found that there were courses that were very tangential to the topic of American history and other courses that were fairly specialized."
Wood thinks there's too much focus on race, gender and class. Courses like these:
"History of Mexican American in the U.S., Introduction to American studies which is not even a history course, the Black Power Movement, Race and Revolution, the United States and Africa"
Wood says those are fine electives. But they don't follow the spirit of the Texas law and shouldn't count as a core American history class.
Wood says the report's not racially motived. But others see it as a clear attack on ethnic studies.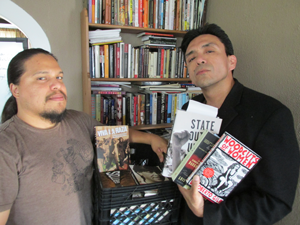 Bryan Parras and Tony Diaz with Librotraficante
(Laura Isensee/KUHF)
"This really is the last showdown."
That's Tony Diaz with the group Librotraficante, which means book trafficker in Spanish. The group started after Arizona banned ethnic studies in public schools.
"We're like you know what, if they're going to ban the books, we're going to smuggle the banned books back. So we came up with a six city caravan, thousands of books were donated from around the country. We are the leading defenders of our culture and history in the nation and we went all the way to Arizona to address this. We're not going to put up with this in our own backyard."
In the Texas battle over ethnic studies, Diaz wants the bill withdrawn. More than one thousand people agree and have signed an online petition to stop it.
Meanwhile, Dan Patrick has defended his bill on Facebook, saying it's not an attack but an attempt for all students to get a quality education.