Cleanup was well underway as George Strait closed the 82nd Houston Livestock Show and Rodeo with an all time attendance record of over 80,000 fans at Reliant Stadium.
LeRoy Shafer is chief operating officer. He says extra seats on the floor helped boost his final concert here.
"We put 70,400 seats on the floor, and we ended up with 80,028 people in there. We're never gonna break that record with a rodeo presentation because we don't have that many seats. I doubt that anybody can put anything together that's going to break that record, I just think this maybe a record for Reliant Stadium that will stand forever."
He says Strait's 1st appearance in the Astrodome 30 years ago helped launch his career.
"The fact that he came in and substituted for Eddie Rabbitt when Eddie Rabbit got sick, and the fact that we had those big video screens. In 1983, that was a rarity for entertainers to be performing with screens. It was just a bond was formed here, but we're proud of the fact that we were able to get the end of this tour, we were able to make it work here, and it was spectacular, and what a way for George to end his career in Houston."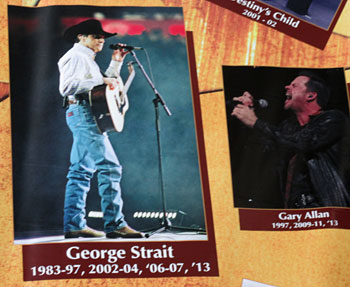 He'll continue to record, but not tour.
Meanwhile, the number crunchers are smiling at the records that pad the foundation of the Houston Livestock Show and Rodeo.
"All of our junior market auctions are up and eight of the grand and reserve grands that we sold this year, set world record prices for us. So we know, immediately there's a lot more money flowing into the hands of the young people that come through our auctions."
Shafer adds 2013 will be another banner year.
"We announced last year a banner year, and then during the middle of this year, we announced as a result of that that we're upping our educational contributions by over $6 million. I'm quite sure when we sit down and look at this, we're gonna figure out how to increase the educational commitments again. That's just what we are and what we do."
After a week off, officials will be planning for the 83rd rendition of the world's largest livestock show and rodeo.