A town hall forum on school security started with a video.
It showed a regular day at the office — until a man started shooting innocent people.
And if you find yourself facing an active shooter, there are three key things you need to remember to survive. Run, Hide, Fight.
It was just a movie. But Steve Head, the president of the Lone Star College North Campus, urged students to pay attention.
"You think you may never use it, it may never happen at your school, I never thought it would happen at North Harris either. And while we didn't have an active shooter, we weren't sure exactly what was happening."
This week, an argument at Lone Star College turned into a shooting. Three people were hurt. The incident weighed heavily on people's minds at the forum at San Jacinto College Thursday.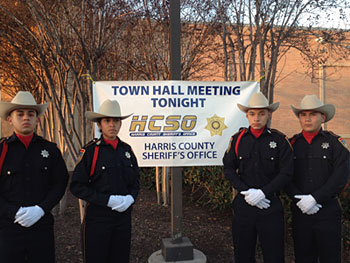 Harris County Sheriff Adrian Garcia, Allatia Harris, President of San Jacinto College North; Steve Head, president of Lone Star College North Harris and Jimmie Dotson, chief of police at Houston Independent School District.
Harris County Sheriff Adrian Garcia says everyone has a responsibility to prevent violence like that.
Somebody may know of someone carrying a pistol, thinking about doing harm, creating chaos — We need to know now before anyone is put in harm's way.
Garcia says people can give tips anonymously. Just download the free mobile phone app iWatch.
There were other ideas about school safety at the panel, too. Get ministers involved. Don't give teachers guns.
One mom, Maria Sanchez, wants more deputies in her neighborhood in Channelview. She explained how she felt in Spanish as Garcia translated.
The fact that a student entered a school armed, well as a mom it worries me a lot … Obviously she's concerned because recently a student came on campus with a pistol, so as a mother she's concerned.
Garcia says he'd like to have resources. But his office has faced a hiring freeze for the last three years.
In the Houston Independent School District, it would cost an extra ten million dollars for every school to have a police officer. Already HISD has nearly 200 police.
But in Channelview, where Sanchez sends her three kids, the school district is hiring two new police officers.
From the KUHF Education Desk, I'm Laura Isensee.