Authorities say two males got into an altercation that resulted in gunfire. Both suffered gunshot wounds, as well as a maintenance man, who was caught in the crossfire and was shot in the leg.
It was a chaotic scene according to students like Nick Parkinson. He was waiting for his next class to start when:
"I heard some guys arguing. I heard one guy shouted, 'Dude, I'm not fixing to play with you.' So I turned around because I thought somebody was about to fight, and when I looked, I seen a guy, he had his back to me. He pulled out a gun and he started firing the gun. I heard about two or three shots, but some people said they heard more. But as soon as I seen the gun, like as soon as the first shot went off, I had already turned around and ran up the stairs."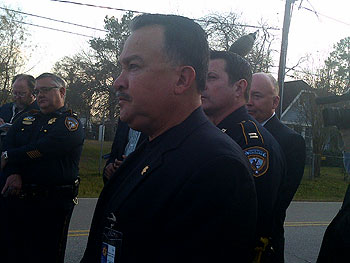 Harris County Sheriff's Office Major Armando Tello spoke at the press confernce. Sheriff Adrian Garcia is out of town.
Campus police secured the premises until Harris County investigators arrived. This is Harris County Sheriff's Office Major Armando Tello:
"We have two persons of interest that were involved in the incident. We have the maintenance man that is in the hospital, and we have another female that also had a student ID, that had some medical complications. No arrests been made. There's no charges been filed again, this is an ongoing investigation."
The campus was closed for the remainder of the day, but Major Tello assured the Chancellor that classes will resume Wednesday morning.
"The campus is cleared. The campus will be opened tomorrow, and at this time, we're considering the campus is safe."
The Lone Star College System has an enrollment of 90,000 students at its six college campuses. Its north campus is located about 20 miles from downtown Houston.