Update 4:30: (AP) — Authorities say the shooting at Lone Star College was the result of an altercation between two people, and at least one was a student.
Harris County Sheriff's Maj. Armando Tello says a college maintenance man was injured in the crossfire.
Tello says officers were called to the Lone Star College System campus about 20 miles north of downtown Houston before 1 p.m. Tuesday.
He says another person was taken to a hospital for medical reasons.
---
According to AP, authorities say they've detained a person of interest in connection with today's shooting on the campus of a community college.
The shooting sent students fleeing for safety, and prompted officials to put the Lone Star College campus on lockdown. The college issued an alert on its website telling students and faculty to take immediate shelter or avoid the campus.
According to a law enforcement official in Washington, authorities believed there could be a second shooter.
A spokeswoman for the Harris County Health System said two people were taken to Ben Taub. But a sheriff's spokesman says three people were injured.
Student Cody Harris says he was in a classroom with about six or seven other students, waiting for the psychology class to start, when he heard eight shots. He says he and the other students fled the room.
Another student who was in a second-floor lab says he didn't think the noise came from gunfire at first — but once people in the lab realized what it was, they fled to a nearby student services center.
---
HCSO has an active shooter scene working at Lone Star Community College on WW Thorne. Please avoid the area if possible. Details to come.

— Adrian Garcia (@SheriffGarcia) January 22, 2013
---
The Lone Star College website alert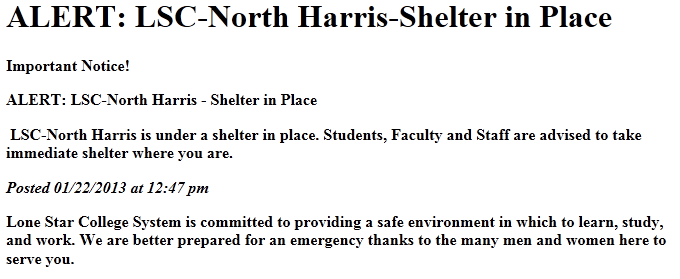 Update: 1:08p.m. Additional shots were fired in the campus cafeteria according to KHOU. Still an active shooter scene.
---
12:55 p.m. AP reports that emergency personnel have responded to reports of several people being wounded at a Houston-area college campus.
A spokesman for the college system, Jed Young, says a shelter-in-place order was issued amid reports of a shooter on campus.
Shots were fired around 11:30 a.m. at Lone Star Community in North Harris County, according to Precinct 4 deputy constables.
KHOU is reporting confirmation of one person is in custody. Dozens of law enforcement officers are searching for a second suspect on the loose.
Other crews were entering the library with stretchers, as students filed out.
The only thing campus officials could confirm is that the school is on lockdown.
Several Aldine ISD schools are also on lockdown while the search for the suspect continues. They are Nimitz High School, Nimitz 9th Grade Campus, Parker Intermediate and Dunn Clifford Elementary.
We'll have more details as they become available.