"Listen up, early voting: 66% favor, 33% against."
HISD headquarters was buzzing with excited staff, parents and other community members with a vested interest in a "yes" vote as the positive early voting numbers came in last night. People like Calvin Powitzky who happens to be a school architect. He's spent time working on other HISD schools and says age is not their friend.
"You just can't remodel a fifty year old school. It costs you eight times more than the original cost of the school to maintain an old school so at some point you just gotta get rid of the older schools."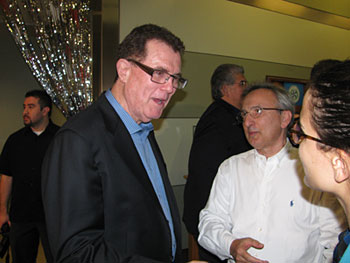 HISD's Jason Spencer says that first school hasn't been selected just yet.
"We're looking at logistically which schools make the sense to go ahead and put in that first batch of projects."
But HISD Superintendent Terry Grier says before they get to that there's some other business to attend to today.
"Probably meet with staff and just let em know how much we appreciate their hard work and dedication. I wish I could send out a telephone call to every citizen in Houston and say thank you on behalf of our students and our teachers and our staff."
Those who opposed the bond were concerned about how the $1.9 billion dollars would be spent. This is one reason why Jason Spencer says HISD intends to give more power to their bond oversight committee.
"They're going to go a step further and actually start generating their own reports back to the board of education giving their unfiltered, unbiased opinion on the work that we're doing, the quality of the work."
HISD aims to break ground on the first school with this bond money in 2014. Property taxes in Harris County will also increase that year by one cent.