"It is absolutely unacceptable for Americans to be intimidated away from the voting place"
Surrounded by community and union leaders, Houston Congreswoman Sheila Jackson-Lee called voter suppression a moral outrage. She says anyone who feels they're being intimidated needs to contact Justice Department monitors who'll be watching the elections here in Harris County.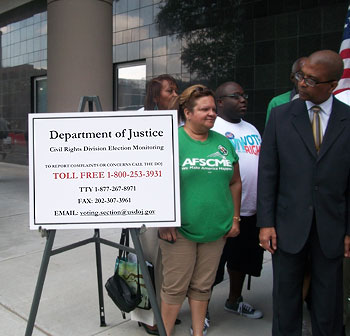 Jackson-Lee told voters they only need one form of identification, not two, and they have the right to request curbside voting if they have a handicap that makes it difficult to go inside.
Mary Ramos with LULAC says voters also face other problems.
"I had a LULAC member go to one of the polling places off 2920, and she was told she couldn't vote because she was dead. That is ridiculous."
The U.S. Justice Department is sending election monitors to over 50 jurisdictions in 23 states. Officials say monitors in Harris County will mainly observe the use of new Chinese language ballots, but Jackson-Lee says they'll be watching for all violations.
"If I call up and say I believe I was intimidated because I was at a polling place and that they treated me differently because I happen to be of a different background or spoke a different language, the monitor would come and address that question. All issues on on the table."