Sexually oriented businesses in Houston run rampant. In fact, there are more here in the Bayou City than in other places like like Las Vegas. SOBs take on the form of massage parlors and 24-hour studios.
Force 4 Compassion is a Florida based nonprofit that seeks to eradicate human trafficking. It has selected the Harris County Sheriff's office as the first recipient of these "Bags of Hope." Jana Rankin is founder.
"When most of these girls are rescued, all they have are the clothes on their back. The Bag of Hope will give them modest clothing and toiletries to prepare themselves before they go through the process of being placed in the shelter. And so, these were designed with the girls in mind, to remind them that they are special, that every life has dignity, and it deserves to be treated with respect."
The Bag of Hope contains basic clothing, makeup remover wipes, toiletries and the like, designed to meet the immediate need of a rescued girl.
"We know for a fact, that 17, 500 foreign nationals are imported into our country every year, for this purpose of sex trafficking. And we know for a fact that once a girl is forced into a life of sex slavery, her life span goes down 7 years."
Harris County Sheriff's Major Mike Wong heads the division that oversees human trafficking investigation. He says there are beds in shelter houses for less than 1-percent of victims.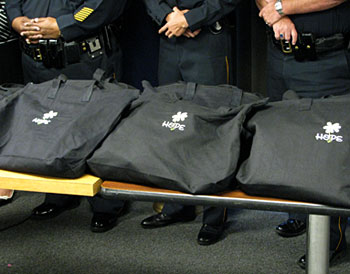 50 Bags Of Hope were donated to the Harris County Sheriff's Department
"We've already known that, but what the deal is now is that we're really modifying our focus on the whole prostitution crime. For decades, we'd always investigate the females. Now we're looking at customers also, and for every female that you have out there, you've got a dozen customers. That's why there are so many of them as opposed to the safe havens."
With Houston getting tough on SOBs, that has forced the industry to move to unincorporated areas, like FM 1960.
"They are getting pushed up, and we are handling that. And of course, now as you know last month, Commissioner's Court approved our new SOB regulations, and so that's going to also increase our ability to attack that."
Fifty of the Force 4 Compassion bags went to patrol deputies, investigators and jail staff to give to women and girls who were rescued from or escaped from captors who had forced them into prostitution and other forms of exploitation.
More information on the group can be found at www.f-4-c.org.