Madison High School, on the southeast side of Houston, was built in 1966 and has had few major upgrades since then.
Principal Sonja Williams says a quarter of the classrooms on campus are in temporary buildings.
"I want to make sure that we have a facility that supports all of the instructional goals that Madison has set for themselves. I know we have been, for the last few years, going in an upward direction in terms of performance and I just think that a new facility would enhance everything that we're trying to do to build the success of our students."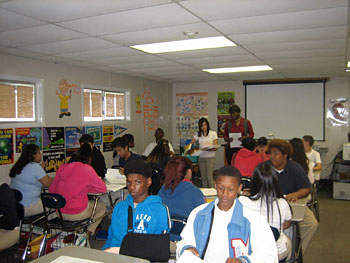 Williams points out exposed electrical wires, cramped classrooms and crumbling facilities.
Madison is one of 20 high schools that would get a new campus under HISD's $1.89 billion bond proposal.
Superintendent Dr. Terry Grier says 38 schools will be built, renovated or replaced if voters approve the bond measure.
"Our average age of our schools are 51 years of age. So next year they're going to be 52 and the following year 53. If we don't fix this while interest rates are at a premium all-time low, when is going to be a good time to fix it. So I think the time is now."
HISD's bond proposal would raise property tax rates incrementally starting in 2014 to a total of 4.85 cents per $100 valuation by 2017. Dr. Grier says he invites anyone who opposes the plan to take a tour of HISD schools and see the condition they are in.