Smith Clinic is named after Houston philanthropists Lester and Sue Smith. It is an impressive 5 story facility that contains a variety of diagnostic and specialty clinics currently located at Ben Taub Hospital.
Brandon Lauser manages the Radiation Oncology department at Smith Clinic.
"It's a fresh, brand new building that's gonna take our technology capability to leaps and bounds. And it's not only state-of-the-art today, but it's gonna be state-of-the-art into the forthcoming future as well."
Hernandez: "Why is that?"
Lauser: "They're at the utmost at capabilities for radiation oncology right now. They're upgradeable and they're really focusing on where radiation oncology is going in the future, which is all about motion-management. At this point, these machines are fully capable to help with those motion management issues and radiation oncology."
With more than 100 examination rooms, Smith Clinic will house outpatient cancer treatment and comprehensive diagnostic services, including 6 mammography units, 2 linear accelerators and 26 infusion therapy stations.
"It's almost counter-intuitive, because you would think that as the radiation therapy treatment becomes more complex, that it would take more time. But the capabilities of the machine allow us to streamline the process, and the patient is more comfortable, they're in there for a shorter amount of time, and it's more accurate. This is literally gonna to be a night and day, in terms of analyzing technological capabilities for the Harris Health System."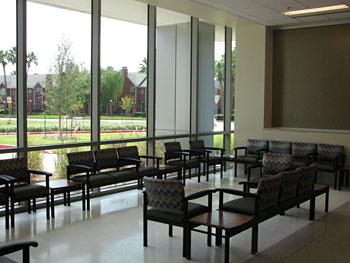 Jennifer Small directs ambulatory care services and specialty clinics. She says the facility's design gives patients the feeling that they're not in a hospital setting.
"We've already known that we're gonna provide high quality care with our partners at Baylor College of Medicine. However, what we've also tuned into, is we need to really focus on the treatment of the patient's experience in terms of coming to the building at the Healing Garden, from point of entry; also to the experience they have with our front desk staff, from coming to see our nursing staff to our providers, and on their way out the building."
Ricki Sanchez also administers operations for ambulatory care services. She says patients will benefit from the specialty care that's offered.
"In the hearts of our folks who care for the patients, I think we've always who were are today. What we really never did, was have an organized focused effort for how that manifests into the patient. And so that manifestation, and that on-stage presence that the staff will have about letting the patients know who they really are, is what really makes the difference."
Smith Clinic will serve primarily low-income and uninsured patients. They'll handle about 160,000 patient care visits a year when it opens October 1st.