Major companies like Hines and JPMorgan Chase are in contract negotiations with their janitorial services.
Hundreds of janitors have been on strike since July 10th, but Cardinal Daniel DiNardo of the Galveston-Houston Archdiocese called on the janitors to return to work and go to the negotiating table in good faith.
Negotiations resume tomorrow morning and several Houston elected officials, including state representatives, Houston councilmembers and the mayor, are calling on the companies to raise the wage for janitors.
This is Congressman Gene Green.
"In Houston, we have strong industries, we have a lot of good opportunity. And there is no reason why janitors in Houston should make $8.35 an hour, when in janitors in Chicago make $15.45 an hour."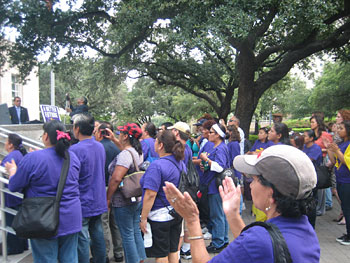 The janitors, represented by the Service Employees International Union, are asking for $10 an hour. Houston Councilmember Ed Gonzalez addressed dozens of union members who were at the press conference.
"You're not asking for exaggerated benefits or anything of the like, you're just asking for fairness. And we stand with you because many times when we all go home, it's you that stay in these buildings long hours, working very hard for extremely low wages."
The SEIU estimates the average wage for janitors in Houston is less than $9,000 a year.