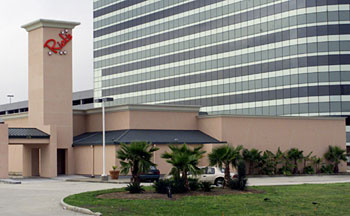 Mugshot of Erasmo Ramirez, currently serving a 15-year sentence for intoxicated manslaughter. Montgomery County Police image.
Eighteen-year-old Emily Jones and was struck and killed last year when Houston resident Erasmo Ramirez rear-ended her truck from behind. He was believed to be traveling and nearly 130 miles an hour.
Since then, life hasn't been the same for the Jones family.
"It's been total hell. The way I like to refer to it."
Ross Jones, Emily's father says nothing can bring his daughter back, but a lawsuit the family is filing against Rick's Cabaret might help prevent future tragedies like this.
Attorney Gene Egdorf says the strip club served Ramirez until he was so drunk he ran out of money and had to be kicked out of the club.
"My understanding is that the employees of Rick's that were interviewed by the police — all admitted they knew he was intoxicated when he left and knew how many drinks they'd served him. And in fact, I have all of it on video tape that shows how he was served drink after drink, after drink, and then kicked out and stumbled out the bar."
"The way I worded the day that they guy went to jail was he got 15 years, we got life. We got a life sentence."
Rick's Cabaret says it has not seen the lawsuit and is not commenting on the case at this time.