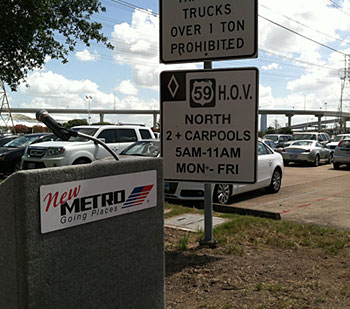 "Now I know why it's in the noontime, because it's a HOT lane, right?"
Kenneth Lee with the Sharpstown Management District was at the Hillcroft Transit Center for the ribbon-cutting for Metro's new U.S. 59 HOT lane.
"You know, one of the goals for the district is to always try to improve the mobility of the district."
The new lane is similar to the one that opened on the Gulf Freeway a few months ago. Solo drivers with a toll tag will be given access to the HOV lanes during during non-peak periods. Metro CEO George Greanias says drivers will pay a toll anywhere between $1.00 and $4.50, depending on the amount of traffic.
"These HOV lanes, now HOT lanes, are built on TXDot property, so we will use the bulk of the money from the tolls to maintain the HOV lanes."
Greanias says the HOT lanes were created under Metro's operating principle of asset utilization, that every asset needs to work as hard as possible to serve commuters. He says much of the time there's room on the HOV lanes for more vehicles, but he adds priority will be given to vehicles that carry more than one person.
"We'll monitor it very carefully, so we know how much space we have on the roadway. And the big trick is we want to maintain the roadway at 55 miles per hour. So we gauge capacity by, are we able to maintain the speed at 55 miles per hour. If it slows down, we know it's getting too full, we won't let people on."
And Greanias says they'll be able to control access to the lanes remotely.
"In the past we've had to send people out and move the gates manually every day. We'll be able to do all that automatically from Transtar. So not only does that reduce the personnel requirement, but it means in an emergency for example, when we have to use these for evacuation routes, we can get that set up more quickly. It offers the possibility down the road of looking at weekend openings."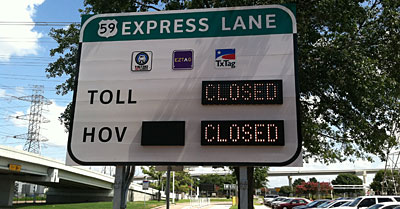 One of the people happy to see those gates open is Becky Edmondson. She runs a nearby insurance agency. Edmondson says the HOT lanes will be a huge benefit to her employees and customers.
"Fighting the traffic on the Southwest Freeway, by the time you get to work, you're already sort of tired and cranky."
Metro hopes to open three more HOT lanes by the end of the year.