A couple of shiny new trucks pull up at Excargo Services. Its a southeast Houston company that transports cargo from local port facilities to warehouses and rail terminals. Like a lot of intermodal companies, Excargo employs drivers own their own trucks. And considering a new truck can cost up to $100,000, drivers tend to hold on to their rigs for awhile.
"We looked at our fleet, we realized it was too old. We realized it was not consistent with Excargo's values."
That's Excargo's president Marcia Faschingbauer. She says the economic slowdown has made drivers more reluctant to take on loans to buy new trucks. Also some drivers have a hard time getting a loan in the first place. So to upgrade their fleet, Excargo is encouraging drivers to take part in a financial assistance program offered by the Houston-Galveston Area Council.
"And we found that our drivers could actually get the down payment they need to buy a new tractor with a low-interest rate loan and meet the goal of our environmental commitment."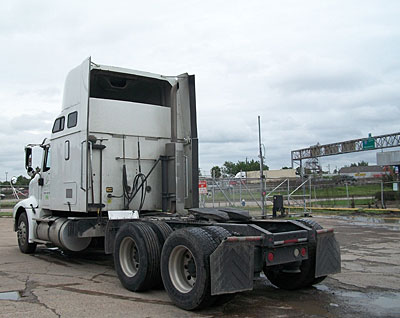 Faschingbauer says the program helps put drivers into new vehicles that can dramatically increase fuel efficiency. That means going from four miles per gallon to over seven miles.
"While 14 percent of our tractors initially did the switchover through the grant, another 50 percent have gone ahead and done the upgrades to a much younger truck with their own credit."
And Faschingbauer says it's also something customers want. She says when they're using less fuel, they're passing on the savings, while at the same time cutting emissions.
"And I can tell you that was not a question that we heard five years ago. There's much more of a consciousness and awareness of corporate responsibility."
To help transportation companies meet new commitments, the Houston-Galveston Area Council uses a combination of state and federal money to help truckers upgrade.
Air Quality Program Manager Shelley Witworth says many trucks used in intermodal transport have been operating for close to two decades.
"They're operating at generally very slow speeds, which means they're operating at some of their most inefficient speeds, pollution-wise, so they're putting out even more emissions."
And according to the HGAC's figures, the transportation sector is responsible for about 35 percent of emissions for the region.
"And of that 35 percent, while trucks only make up 5 percent of the overall vehicle inventory, they contribute at least 50 percent of the on-road emissions."
In offering the loans and grants, Witworth says trucks are evaluated based on the amount of emissions reduced by getting them off the road.