Trucks from Harris County Mosquito Control continue spraying to keep the infestation from getting out of hand. Dr. Rudy Bueno oversees mosquito control here, and says the number of mosquitoes testing positive for West Nile virus has gone up significantly.
"Right now, we have 77 positive samples to date. One difference that we haven't seen in the past 3 or 4 years, is that we've seen more dead birds this year — in particular, blue jays — than in the past two or three years."
Bueno says they logged 13 dead birds already, compared to a total of 13 for all of last year:
"This warm weather amplifies the virus in the birds, and the mosquito vector that spreads West Nile virus, thrives when there's a lot of stagnant water."
Hernandez: "So, the amount of dead birds that mosquito control is finding, is indicative of the activity?"
Bueno: "That certainly is a piece of the puzzle. When the blue jays and the crows start to die of the virus, that's very indicative that there's plenty of virus activity out there."
The virus originated in the West Nile valley of Uganda and introduced into the area about 10 years ago. During that time, it has been linked to 22 deaths and 367 confirmed cases in Harris County alone.
"West Nile is here to stay in the United States. We have the mosquito, we have the amplifying host the birds, and a lot of the population still not immune to West Nile."
Dr. Rodrigo Hasbun is an infectious disease expert at Houston's UT Health Science Center. He says last week, the CDC confirmed 6 human cases of the virus in Texas. So far this summer, 3 human cases in the Houston area have been confirmed, but Hasbun says there are still cases in Houston that need confirmation.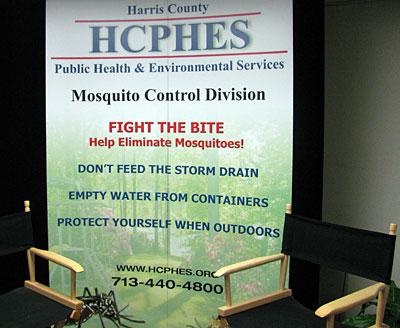 He adds another sobering fact:
"There's no specific treatment for West Nile. But if patients come in with West Nile encephalitis, they're gonna require IV fluids and pain medications. There have been several medications studied, but there's nothing that's FDA approved or effective right now to treat West Nile infections in humans."
Only about 1 percent of those infected with the virus have serious health effects, the elderly and those with weak immunities. Many come down with flu-like symptoms, or no symptoms at all.
Officials say to get rid of standing water areas, like a clogged gutter or open containers. If you do go outdoors in the evening when mosquitoes are most active, remember to use repellent containing DEET.