The first rule about keeping chickens in Houston is not to talk about your chickens, because it's not exactly legal. Which is why this illegal chicken owner's name has been changed to "Jane."
"We have three hens, they're all Orpingtons. We try to be respectful as far as where we put them, but our HOA their comment was they would frown upon it."
"Jane" lives out in Kingwood, technically part of Houston, with her husband, two kids, cat, dog and her five month old Orpington hens.
"This black one is Maggie. The blonde one is Dumplin', she's the fattest and then we have Sweet Tea, she's the little reddish one."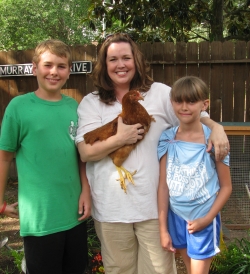 "Jane" with Sweet Tea and her children
The hens are happily pecking their way round their coop in "Jane's" backyard. A coop which is not 100 feet from her neighbor, making the chickens illegal in the eyes of BARC, the Bureau of Animal Regulation and Control. But Hens for Houston hopes to change that law.
"Yeah, our position is basically there shouldn't be a distance requirement on the coops."
That's Claire Krebs, founder of Hens for Houston. Using Harris County appraisal district data, Krebs has created maps of different neighborhoods around the city. They show that with the current 100 feet rule, barely anyone can keep hens. But that's not to say no one flouts that law, says "Jane."
"The HEB where I get all of my magazines has a plethora of chicken and urban farming and backyard chicken magazines, and every time I go they're picked through."
Reducing that distance from 100 to, say, 20 feet would mean these current chicken owners would be legal. Interestingly, says BARC's Chris Newport, the chicken complaints they get are never about where the coop is located.
"We get complaints about noise, about smell. We get a lot of complaints about chickens that aren't kept in a way that keeps them on the owners' property only."
In the past two years BARC has received over 2,000 such complaints, which can sometimes lead to chicken confiscations. Compare that with the city of Bellaire where keeping chickens is legal, animal control recorded a whole 2 complaints in seven years. Newport is aware this is a time consuming problem for Harris County, one that they'd like to see disappear with only a few stipulations.
"Our overriding concern is that fowl in general be kept in a way so that the owners of the animals can realize the benefit and not negatively impact or impose a cost on their neighbors."
That's good news for Krebs because BARC is eager to see what Hens for Houston comes up with. Krebs optimistically would like to have a new ordinance that reduces distance, amongst other things, in place by next summer. Chicken owner "Jane" doesn't want to ruffle any feathers but hopes that a change is on the way.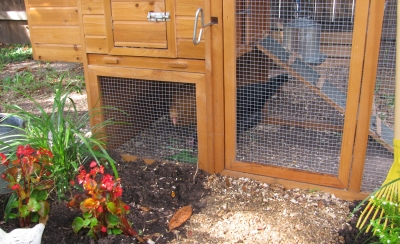 "It's not really that big a deal. I think it's a very outdated ordinance that should just easily be changed around. Switch it up, change it."