This is a 1 o'clock game, which means fans have to skip work to make it to the ballpark. The Astros win-loss record still isn't very good, but overall longtime fan Alois Blackwell likes what he sees.
"I think it's getting better. As far as you know with the tailgating and those types of things. I'd like to see a lot more matinee games. I really enjoy coming to the matinee games."
While some fans purchased large trays of nachos dripping with cheese, or hotdogs with lots of ketchup and relish, Omar Rios was at the game eating a homemade ham sandwich. Something that wasn't possible until the new owner took over.
Rios likes what what Jim Crane is doing so far.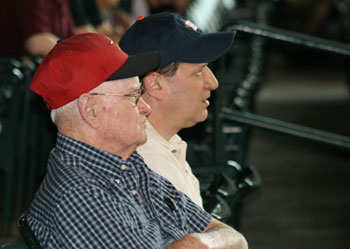 "He put in good people to work. The GM is doing a fantastic job, not over paying for washed up veterans. Giving the young kids a chance and then I mean we're bringing sandwiches in the stadium now, lower ticket prices. I just think he's just doing a phenomenal job.
"You can bring that in now?"
"Yeah, we can take it in now as long as it's in a plastic bag."
Zachery Levine covers the Astros for the Houston Chronicle and says getting the public excited about a losing team hasn't been easy.
"It's been a struggle. I mean, they've had several bad years. They're trying to make up for and none of that has been the fault of their ownership group, but they know attendance has been a struggle this year. But I think they're doing well trying to go get new sponsors, new advertisers, and try to increase their revenue."
Levine says Crane isn't just sitting around hoping things improve.
"Jim Crane travels to a lot of other ballparks around the country to try and see what he thinks those parks are doing particularly well, whether its advertisers that the Astros never thought of reaching out to, who have a history of advertising in ballparks, or some of the things they do with concessions. So he's really been on this best practices tour."
It's estimated that it will take several years for the Astros to put together a team that can actually contend for a playoff spot. Whether or not the fans, or the owner, can wait that long remains to be seen.